Czardasfyrstinnen = Die Csardasfürstin

Operetta in three acts by EMMERICH KALMAN

Den Norske Opera

Friday 22. may 1981

Text by Leo Stein and Bela Jenbach

Adaption: Folke Abenius

Translation of song text: Einar Sissener

Translation of dialogue: Wilhelm Sandven

Conductor: Zdenko Peharda

Den Norske Operas Chorus and Orchestra

Performance starts. 19.30 and ends ca.  22.30

Interval between the acts

Leopold Maria,

Fürst Lippert-Weylersheim = Almar Heggen

Anhilte, his wife = Vessa Hanssen

Edwin, their son =  Jan SødaI

Stasi, his cousin = Eva SoIheim

Graf Boni Kancsianu = Tor Fagerland

Sylva Varescu = Else Dehli

Graf Feri von Kerekes = Tor Gilje

Eugen von Rohnsdorff = Terje Stensvold

Zdenko Peharda, conductor

Chorus and Orchestra of Den Norske Opera

(The Norwegian Opera)

Regie - Folke Abenius, Eugene Gabay

Scenography - Wolfgang Vollhard

Costumes -  Anna Gisle

Choreography - Eugene Gabay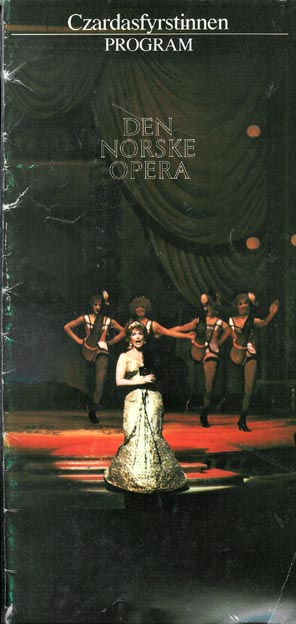 My first time in any opera house, my first operetta. I loved it. This operetta, this production was also later televised although with other singers. Tor Fagerland was great as the cute count Boni.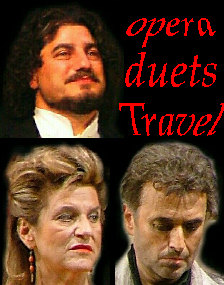 This page was last updated: June 20, 2022
Die Csardasfürstin is one of the major operettas in the WienerOperette vein. Just like Franz Lehar, Emmerich Kalman was also Hungarian. Vienna was the Capital of AustriaHungary double monarchy and so real or first operetta is Viennese and also Hungarian. Then we have the German operetta with Berlin as Capital city. And then came English operetta and then American operetta / musical theatre / musical and then musicals.

The Norwegian name for this operetta by Emmerich Kalman is Czardasfyrstinnen. It is a direct translation of the German title except for naming the Hungarian dance Csardas for Czardas but that is tradition. But in English it became The Gypsy Princess.