1996
-08-03 The 3 tenors, Olympia Stadium (Munich)
Placido Domingo, tenor

Luciano Pavarotti, tenor

Philharmonia Orchestra

James Levine, conductor

From tenorissimo.

MUNICH Olympia Stadium, August 3, 1996

Philharmonia Orchestra, conductor James Levine

on tv

Solos:

Carreras: Musica proibita (Gastaldon), Lamento di Federico (È la solita storia del pastore) from Cilea's 'L'Arlesiana', Granada (Lara), Improvviso (Un dì all'azzurro spazio) from Giordano's Andrea Chenier
Domingo: No puede ser from Sorozabal's 'La Tabernera del Puerto', O souverain, o juge, o père from Massenet's 'Le Cid', Dein ist mein ganzes Herz from Lehar's 'Das Land des Lächelns', E lucevan le stelle from Puccini's 'Tosca'

Pavarotti: La mia canzone al vento (Bixio/Mancini), Addio alla madre (Mamma, quel vino è generoso) from Mascagni's 'Cavalleria Rusticana', Mamma (Bixio/Mancini), Nessun dorma from Puccini's 'Turandot'

Together:

Medley I: Because, La Danza, Be my love, Marechiare, Muñequita linda, Torna a Surriento

Medley II: Maria, Tonight, Ò paese d'ò sole, Cielito lindo, Moon River, Caminito, Mattinata, Amapola, O sole mio

Encores: La donna è mobile, O sole mio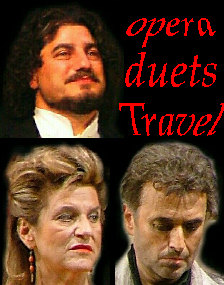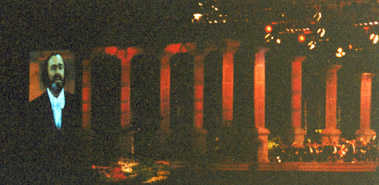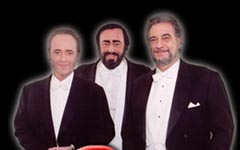 This page was last updated: June 20, 2022
I remember it was raining and some people used umbrellas. People were encouraged to use raincoats and such instead in interest in other who wanted to use not just hear The 3 Tenors. I was disappointed to hear just the same songs and arias as in Gothenburg especially since they had said in documentary of earlier 3 Tenors' concert that with their vast repertory they could have had 10 concerts in a row and not repeat a single song. But that was a naïve dream. I should have known better.

My seat was not a very good one so without the big screens I would have seen virtually nothing. My parents sat outside the arena in pouring rain and enoyed the sounds from the arena. I was the only one with tickets. More about how I got the tickets and such is forgotten...