May 20th

Guided tour of Wiener Staatsoper 13.00

Earlier in the day I was in Staatsoper for one of its Guided Tours. And in the the of the tour, we saw the workers make the scene ready for Cavalleria Rusticana.

Carreras Club Wien

Hotel Astoria at 16.00

After my first meeting with the ladies of the Carreras Club Wien at Hotel Astoria, I went to the Staatsoper to see Cavalleria Rusticana & Pagliacci.

Wiener Staatsoper 19.30

Cavalleria Rusticana

with Agnes Baltsa

The Austrian Television was there to record Baltsa in her parade role as Santuzza.

She was on stage the whole opera. Even from the prelude. I have never seen any opera where the music was in every happening on stage. (Like a Ballett).

Santuzza = Agnes Baltsa.

She is condamned by the society. Her fault: being woman, and falling in love with Turriddu. A man of no discretion.

Turriddu = Luis Lima

They (society) must have known about Turriddu and Santuzza. But he is a man. Maybe they even know about him and Lola. Unsympatic figure!

Lola

Married to Alfio. They are prominent members. Lola who has betrayed her husband, is accepted by society. Even when there can be no doubt what have happened between her and Turriddu. (The duel)

Alfio

Rich, admired. For what: being rich? This Alfio, was young and  no vulgar figure. 

Turiddu = Luis Lima

Lucia = Nelly Boschkowa

Alfio = Alberto Mastromarino

Lola = Stella Grigorian

Jun Märkl, conductor

Inszenierung, Bühnenbild und Kostüme - Jean-Pierre Ponnelle

Chorleitung - Ernst Dunshirn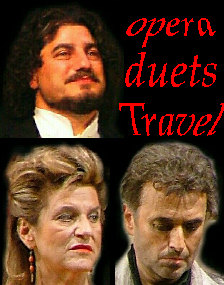 This page was last updated: June 20, 2022