Opernszenen

P R 0 G R A M M

Giacomo Meyerbeer 1791-1864

Le Prophéte

Marche de couronnement

Arie des 2. Akts: ,Ah, mon f ils! "

Jules Massenet 1842-1912

Hérodiade

Préiude 3. Akt

Auftritt Hérodiade 1. Akt ,Ne me refusez pas'

Jules Massenet

Werther

Clair de lune

Arie der Charlotte 3. Akt

,,Vas, laisse couler mes larmes'

Georges Bizet 1838-1875

Carmen

Vorspiel 3. Akt

Arie der Carmen im 3. Akt ,Air des cartes"

Hector Berlioz 1803-1869

Carneval romain

Ouvertüre

Les Troyens

Monolog und Arie der Dido ,Je vais mourir...'

Intermission

Vincenzo Bellini 1801-1835

l Capuleti e i Montechi - Sinfonia

Arie des Romeo 2. Akt ,Deh, tu bell'anima..."

Giuseppe Verdi 1813-1901

Aida

Vorspiel

Don Carlos

Schleierlied der Eboli ,Nei giardin dell bello"

Pietra Mascagni 1863-1945

Cavalleria rusticana

lntermezzo

Romanze und Szene der Santuzza ,Voi lo sapete'

Extra

O mio babbino caro

Seguedilla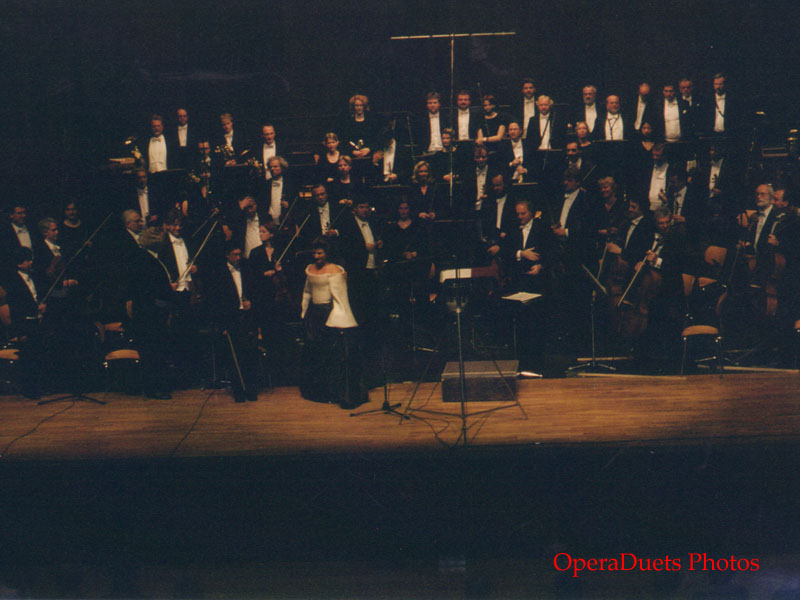 Graf-Zeppelin-Haus

Marcello Viotti, conductor

Münchner Rundfunkorchester

2001
-05-13 Opera Concert, Friedrichshafen
Münchner Rundfunkorchester

Marcello Viotti, conductor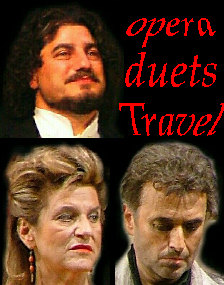 So Agnes Baltsa did three concerts with the same arias. Unfortunately I could not go to Regensburg, but I could see Friedrichshafen and Vienna.

The difference between these two concerts was that both orchestra and singer was better than in Friedrichshafen. The Bodenseefestival 2001 had her concert as one of the great highlight in the program. Unfortunately the orchestra was insecure musically, maybe one wouldn't notice it if one didn't know the pieces. In the Coronation March from Le Prophete, it was clear from the beginning that the orchestra had not been enough rehearsed, missing some cues, instability inside the orchestra. They was much better in the Massenet music, and did Carmen well. But I must say that throughout the concert, the orchestra was just not good enough for this event.

Vienna

Not only the orchestra was improved, Agnes Baltsa was better too. (She was probably better with the improved orchestra). When Agnes Baltsa came in, naturally the applause was immense, then she was preparing herself for Fides' "Ah, mon fils!", and I could see her going mentally on the opera stage being Fides in that moment of the opera "Le Prophete".  Memories from Vienna State Opera from seeing that opera there came vividly in my mind, she was both in Konzerthaus and State Opera, and she was great as Fides. I cherish the actress, not only the singer, and maybe the singing was not perfect, but this was more opera than concert. I loved it.

When she sang Herodiade, she was Herodiade. It gave me fond memories of seeing her in Herodiade at the Vienna State Opera. She was going into Herodiade before starting singing, I sat close enough, to see her face and the expression there. Truth in a concert. Going into Charlotte, "Vas, laisse couler mes larmes", how could anybody not start dreaming about seeing her on an opera stage as Charlotte in Werther. Or at least singing more arias from Werther. Carmen, yes, she is perfect as Carmen, singing the third aria of Carmen, not the Habenera nor the Seguedilla, I think Baltsa wanted to the sing something less familiar or maybe it was the drama in this aria "Air des cartes"

Berlioz. The orchestra was loved by both Friedrichshafen and Vienna audiences when they played the Carnaval de Romains. And who could resist Agnes Baltsa singing Les Troyens, Didons aria. Diving into Didon, giving the audience a high treat. It was the Great Hightlight of the first part of the concert.

Second part of the concert. The Sinfonia from Bellini's  I Capuleti ed i Montecchi, and that Romeo aria. She finding having a dress, strange for being Romeo, or so her expression told me. Going into Romeo finding Giulietta lifeless in her tomb, it was not easy taking the audience thunderous applause after almost dying as Romeo. Then after some moments she looked up, embracing the applause. Probably glad to be able to rest a bit when the orchestra was playing the Prelude from Aida. The orchestra played Aida well, and out Agnes Baltsa came to sing the Veil Song from Don Carlos, another great success for Agnes Baltsa. Eboli is really one of Baltsa's signature roles.

Cavalleria Rusticana  Intermezzo and "Voi lo sapete, o mamma". The orchestra know the Intermezzo well, and the Baltsa came out, singing her heart out as Santuzza. As in all these arias, she got into the role and singing as it she in the opera. Than came the extra number, because of some cockup in Konzerthaus, we had been handed out a piece of paper, where already the extra numbers was written. So it came as no surprise that it was "O mio babbino caro", she sang it well, but maybe there was other arias she would loved better to sing as encores. Then came "Seguedilla", she was doing it well, but with a big sigh. And when the audience did not want her to go, another encore was necessary. The conductor, Marcello Viotti, decided dictatorially that it was to be another Seguedilla. She was doing this no 2 Seguedilla in a bit different way, more professional way. We will probably never know what aria Agnes Baltsa would have chosen to sing if she could have decided it herself. Personally I think "O don fatale" would have been her choice.

My review of the two concerts in Friedrichshafen and Vienna

This page was last updated: June 20, 2022