Sinfonia Varsovia

Pietro Veneri, conductor

José Cura in Concert, Konzerthaus Wien

Sinfonia Varsovia

José Cura, tenor and conductor

Pietro Veneri, conductor

Composers: Ponchielli, Verdi, Boito, Giordano,

Meyerbeer, Panizza, Rachmaninow

P R O G R A M M E

Part 1

Amilcare Ponchielli

Cielo e mar, scena & aria ( Enzo from «La Gioconda») (1876)

Giuseppe Verdi

O figli, o figli mei ... Ah, la paterna mano, scena & aria

(Macduff from «Macbeth») (1847)

Ouverture  «Les vêpres siciliennes» (1855) Cura conducts

Ah si. ben dite .... Tutto parea sorridere (Corrado from «Il Corsaro»)

Arrigo Boito

Giunto sul passo estremo (Faust from «Mefistofele») (1868)

Umberto Giordano

Prelude 2. Act from the opera «Siberia» Cura conducts

Giacomo Meyerbeer

Mi batte il cor ... O paradiso (Vasco from «L'Africana») (1865)

Panizza

La Cancion a la  Bandera (Mariano from
«Aurora»
)
-------------------------------------------------------------------------

COMPARISON: CD and November 29th, 2002 (Part 1):

1- Canción a la Bandera / Aurora, (Hector Panizza)

2- Svanir le voci! ... Meco all' altar di Venere... Me protegge, me difende / Norma (Vincenzo Bellini)

3- Ah si, ben dite... Tutto parea sorridere /  Il Corsaro (Giuseppe Verdi)

4- Oh! fede negar potessi .... Quando le sere al placido / Luisa Miller (Giuseppe Verdi)

5- Mi batte il cor ... O Paradis / L'Africana (Giacomo Meyerbeer)

6- Giunto sul passo estremo  / Mefistofele (Arrigo Boito)

7- Sia gloria ai canti dei naviganti! ... Cielo e mar / La Gioconda (Amilcare Ponchielli)

8- Ed anche Beppe amó / L'amico Fritz (Pietro Mascagni)

9- Preludio. Atto II / Siberia (Umberto Giordano)

10- Orride steppe / Siberia (Umberto Giordano)

11- Intermezzo Epico / Aurora (Hector Panizza)

------------------- Pause ------------------- Part 2

Second Symphony in E minor opus 27 (1906-1907) Cura conducts

Extra-numbers:

Ouverture, Guglielmo Tell (Rossini)

Nessun dorma

How can one compare a studio  recording to  a live concert? It is impossible for me, it was live, it was wonderful to look at José Cura conducting his Sinfonia Varsovia. And in the end, he just started the orchestra to get into a joyous musical moment, unfortunate I don't know which music that played, only that Cura started the orchestra and then he left.  But luckily he came back to give us an extra number, Nessun Dorma.

And naturally did the Konzerthaus Wien give us opportunity to buy his Aurora CD and the Rachmaniov CD, and then we could stand in line for his autograph and maybe a photo of the great maestro.

As one can see from the list of the CD and 1rst part of this concerts, they are very similar, which makes it easier to make a comparison. On the CD Cura conducts it all. In the concert it was Veneri who conducted the arias. And here is the biggest difference, I find José Cura's reading of the score's more romantic, well, I liked his conducting better than Veneri's. Not that I found Veneri lacking in the concert, but when listening to the CD I know what I like best. Naturally I would have liked very much to hear and see Cura in the flesh singing the arias from Norma, Luisa Miller. L'Amico Fritz and the aria from Siberia. But I guess that Cura had to spare himself after all he was to conduct the 2nd symphony of Rachmaniov after the interval. In the aria concert I found Cura singing from Macbeth and Mefistofele as the two most beautiful vocal moments. And I enjoyed Cura conducting the Ouverture from I Vespri Siciliani and the Prelude from Siberia.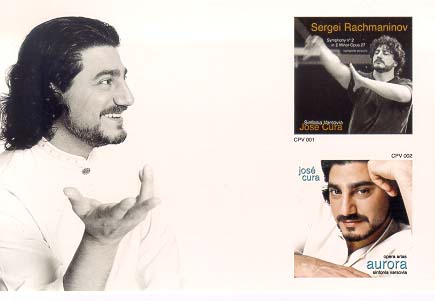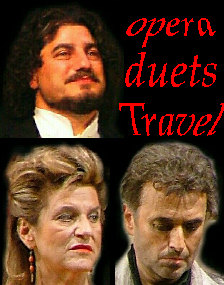 This page was last updated: June 20, 2022