Carmen = Marina Domashenko

Don José = Torsten Kerl

Micaëla = Elizabeth Norberg-Schulz

Escamillo = Gregg Baker

Frasquita = Kjersti Reppe

Mercedes = Nanna Maria Cortes

Remendado = Arild Helleland

Dancairo = Thor-Inge Falch

Patrick Fournellier, conductor

Direction - Runar Borge

Choreograhpy - Runar Borge

Set Design - Svein Lund-Roland

Costumes - Mathias Clason

Lighting Design - Gretar Sveinbjørnsson

Choir & Childrens Choir - Steffen Kammler and Edle Stray-Pedersen

Carmen with world-names in the roles!

The saison starts with Georges Bizet's opera

CARMEN

Saison premiere Saturday 23. august at18.00

One of the worlds most performed operas marks

the opening of the season.

The cast is full of world known soloists.

CARMEN

Opera in 3 acts by Georges Bizet

Libretto by Henri Meilhac / Ludovic Halévy

Premiere: 23/8

Days of performance 25/8, 26/8, 27/8, 28/8, 29/8, 30/8, 1/9, 2/9, 3/9, 4/9, 5/9, 6/9

Duration : app. 3 h 15 m

Sung in French

Norwegian subtitles

Wonderful Carmen in
Operaen
in Oslo!
I liked the production, using the relatively small stage in a superb way. Torsten Kerl was the golden-haired Don José, a big man and tenor, with a securely and beautifully produced Flower-aria. Marina Domashenko was a passionate Carmen, wonderfully sung, danced and acted. After many years I hear Elizabeth Norberg-Schulz live again, in Oslo, her voice has matured and has a more full-rounded  sound. And she got a standing ovation after the opera, very well deserved. Gregg Baker was a powerful Escamillo, really great in movements and perfectly the natural center of any party.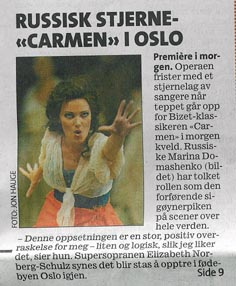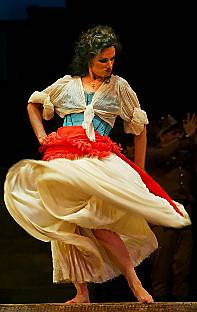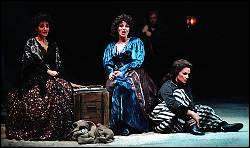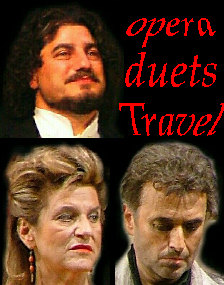 This page was last updated: June 20, 2022