Nuovo Quartetto Italiano

Lorenzo Bavaj, piano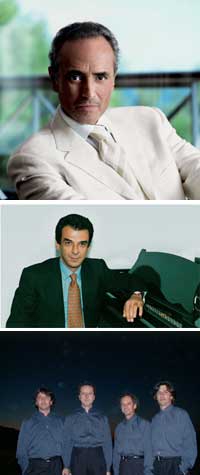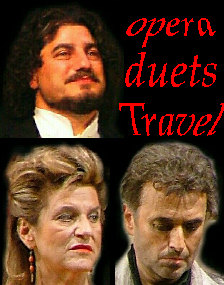 Jose Carreras first time in Bergen, Norway

For the first time in Bergen. Grieghallen March 19th, 2005. With him is string quartet Nuovo Quartetto Italiano and  Lorenzo Bavaj on piano.

Standing ovations and 6 extra numbers!!!!

PROGRAMME

Jose Carreras



Luna Nova (Mario Pasquale Costa)
Jose Carreras



Elegie (Jules Massenet)
Nuovo Quartetto Italiano

L'Ultima Canzone (Francesco Paolo Tosti)
Jose Carreras



Segreto (Francesco Paolo Tosti)
Jose Carreras



Sogno (Francesco Paolo Tosti)

Jose Carreras



Aprile (Francesco Paolo Tosti)
Nuovo Quartetto Italiano

Intermezzo (Respighi) (played Presto by Donizetti??)
Jose Carreras



T'estimo (Edvard Grieg)
Jose Carreras



O primavera (Pier Adolfo Tirindelli)
PAUSE

Jose Carreras



L'Oreneta (Enric Morera)
Jose Carreras



Andaluza (Enrique Granados)
Nuovo Quartetto Italiano

Scherzo (Giuseppe Verdi)
Jose Carreras



Na sera e maggio (Giuseppe Cioffi)
Jose Carreras



Firenze sogna (Cesar Cesarini)
Jose Carreras



Passione (Vincenzo Valente)
Nuovo Quartetto Italiano

Crisantemi (Giacomo Puccini)
Jose Carreras



Silenzo cantatore (Gaetano Lama)
Jose Carreras



Musica proibita (Stanislao Gastaldon)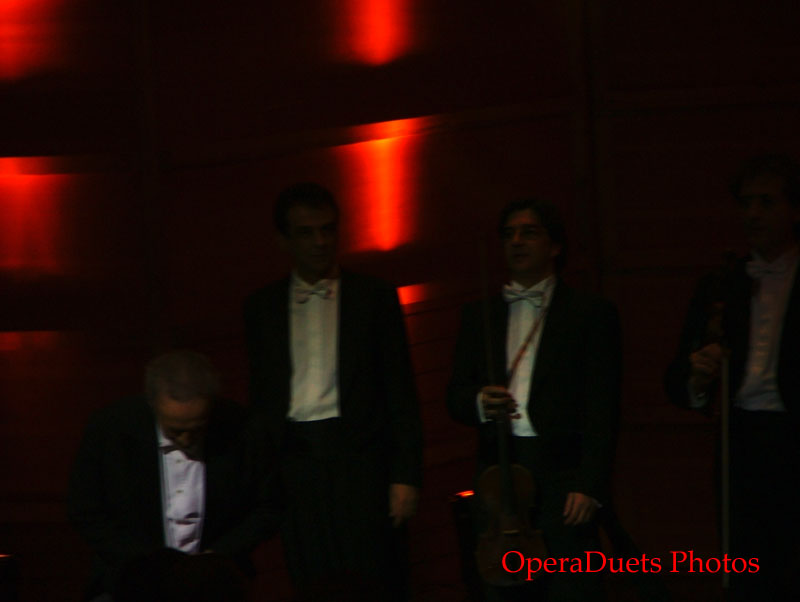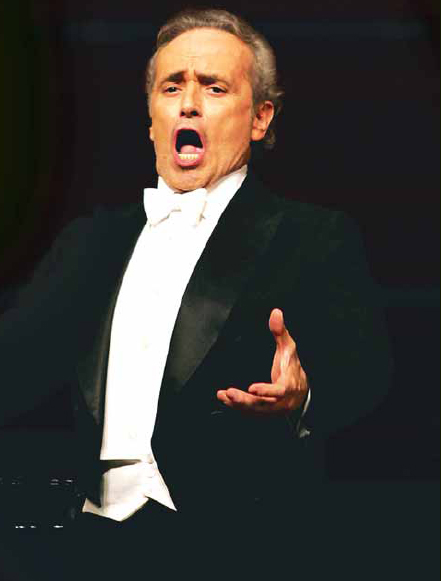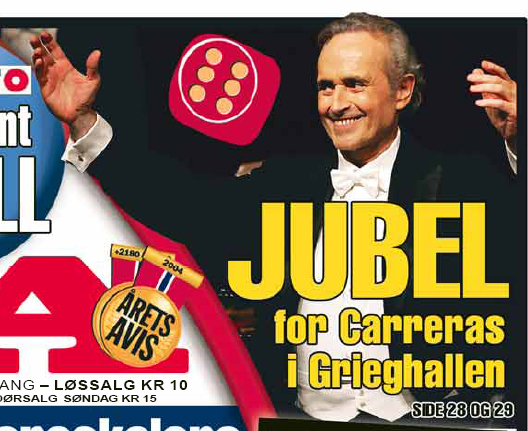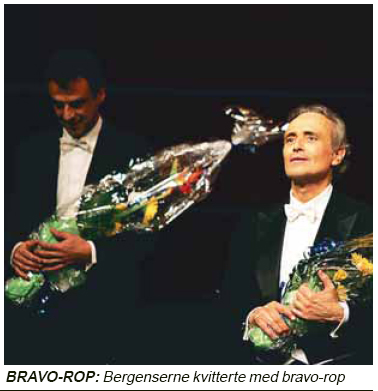 JOSÉ CARRERAS

Lorenzo Bavaj, piano

Nuovo Quartetto Italiano

Grieghallen, Bergen 19.3.2005

Josep Carreras 9th time in Norway, and first time in Bergen. Almost 15 years after I saw Josep Carreras live for the first time I see him this time too in Norway. 14 years and 11 months on the date since his recital in Oslo Konserthus. This time a much better seat. This time also full house. But this is a great evening with standing ovation and 5 extra numbers. 15 years ago it was more the baroque arias, this time it is the more lighter songs of Tosti, Costa and so on. Of the more major composers Grieg and Massenet.

He started with LUNA NOVA by Costa, not my favorite piece and more of a warming up of voice piece. His voice is perfect for Massenet and his mastering of the French is superb. ELEGIE of Massenet was the first highlight of the concert. What a disappointment that L'ULTIMA CANZONE by Tosti was just played by the string quartet, where it became just a very minor classical piece. Josep Carreras came back to sing 3 more songs of Tosti, not really his best rendition of the song but sung with full passion more suited for opera arias, really. After Tosti the Nuovo Quartetto Italiano was supposed to play INTERMEZZO by Respighi but they played PRESTO by Donizetti (?!).

After the quartet had played Carreras came back and treated us with an exquisite rendition of Griegs JEG ELSKER DIG in Catalan T*ESTIMO.  Sorry to say that the string quartet did not enhance the magic of this romance, but Lorenzo Bavaj and Josep Carreras gave it all the magic needed to take the breath away of the enchanted audience. The height of musicality was somewhat lowered in the O PRIMAVERA by Tirindelli but still it sounded almost like a major classical piece.

PAUSE.

The second part was really superior to the first. To sing the Catalan songs gave Carreras a boost that maybe already the romance of Grieg had given. L*ORONETA and especially ANDALUZA was magnificently sung. The string quartet was OK with Verdi's SCHERZO, but luckily when Carreras came back to sing Neapolitan songs as NA SERA MAGGIO, FIRENZE SOGNO and PASSIONE, all the passion the Catalan tenor used was justified and a mesmerized audience succumbed completely. At last the string quartet that had bothered us with it good but not great playing had found the piece right for the occasion Puccini's music where the magical music from his greatest opera, MANON LESCAUT was heard. At last there was some opera music. And the official program was ended with some of my favorite music, SILENTIO CANTATORE and MUSICA PROIBITA. And the audience was up on its feet, applauding and shouting BRAVO!! 

And the we were treated with a tenor with lots of humor, gratefully to his Bergen audience. 6 extra numbers. This concert was a smash hit in Bergen.

EXTRA NUMBER

1. Un'Ombra  (from PURE PASSION)

2. Coren'grato (CARDILLO)

3. Vurria

4. Un Núvol blanc (LLACH)

5. Neapolitan song about Winter

6. Santa Lucia

This page was last updated: June 20, 2022