die alte Buryja = Janina Baechle?

Laca Klemen = Jorma Silvasti

Stewa Buryja = Marian Talaba

Jenufa = Ricarda Merbeth

Altgesell = Marcus Pelz

Dorfrichter = Alexandru Moisiuc

seine Frau = Waltraud Winsauer

Karolka = Caroline Wenborne

Schäferin = Roxana Constantinescu

Barena = Juliette Mars

Jana = Ileana Tonca

Tante = Sabine Kogler

Graeme Jenkins, conductor

Inszeniering - David Poutney

Kostüme - Marie-Jeanne Lecca

Licht - Mimi Jordan Sherin

Chorleitung - Thomas Lang

Choreographie - Renato Zanella

Her stepdaughter: Ricarda Merbeth as Jenufa

Agnes Baltsa as Die Küsterin, Jenufa's stepmother.

Wonderful, wonderful!! I like Ricarda Merbeth as Jenufa, Marian Talaba was Ok as Stewa, Jorma Silvasti WAS Laca Klemen, Agnes Baltsa was sensational as Die Küsterin Buryja.

Agnes BALTSA even came out backstage and greeted her fans, and I got to talk to her.

The production is from 2002. Agnes Baltsa was also then Die Küsterin and Jorma Silvasti was Laca Klemen. That time  Angela Denoke and Torsten Kerl were Jenufa and Stewa. Both singers have blond hair. Ricarda Merbeth and Marian Talaba have darker hair. Why mention this? Well, not only is Marian Talaba underwhelming as Stewa Buryja but his dark hair undermines the mention in the text about Stewa's supposedly golden hair. Another thing is that all the other people except Küsterin and Laca have dark hair so how do one as audience understand who to look at. Lucky me, having seen this production before I knew where Jenufa would be. Others would not have a clue. And STEWA the big man in this village he looked just like anyone else. With Torsten Kerl, big and blond, he would always catch your eyes. And the maybe Torsten Kerl even has charisma that in my view was lacking from Marian Talaba. Talaba as Stewa was just a plumb, dark-haired man. With Stewa and Jenufa as both blonde-haired and fairer than all the rest, not only would the story be even more believable but also easier to follow.

Other than the lack of right color of the hair of the protagonists there was the orchestra that played wonderfully under conductor Graeme Jenkins but often too LOUD.  I was in parkette. Did it sound better in other parts of the opera house? I don't know.  But I know that there was exquisite singing drowned by the orchestra. Not all the time but still.. I think this was the best performance of Agnes Baltsa as Die Küsterin. I adored Ricarda Merbeth as Jenufa. Where Angela Denoke had been harder to swallow was Ricarda Merbeth pure vocal joy and wonderful acted too. Jorma Silvasti was Laca Klemen and he could dominate the scene, a man with brute force and with a Vulnerable soul was his Laca Klemen, the sound of his voice was wonderful to listen to, so delicate and pure and still strong, Janina Baechle who was like in 2006 Grandma Buryja was even better acting and sounding than in 2006. Marian Talaba was, unfortunately, a bland Stewa. He has the voice, but something else was missing. He was not helped by having become somewhat heavier in body. But Jorma Silvasti (Laca Klemen) is also a heavy-built man, but he has charisma and an instant-recognizable voice. But Marian Talaba is young, he might still become a wonderful Stewa...  AGNES BALTSA was Wonderful as Die Küsterin. What an actress!! To see Agnes Baltsa as die Küsterin to be the strong and strict stepmother of Jenufa and then to see her being so totally broken by the heinous act of her murdering Jenufa's child with Stewa was great theatre. Her singing and acting was marvelous. But the orchestra played wonderful music often too LOUD.

I  LOVED this JENUFA!!!!

04. April 2009

Beginn: 19.30 Uhr

Spieldauer: 3 Stunden , Pausen: 2

Premiere am

24. Februar 2002,

Wiener Staatsoper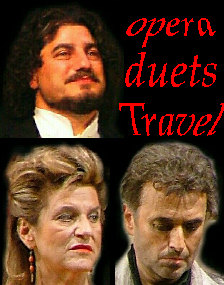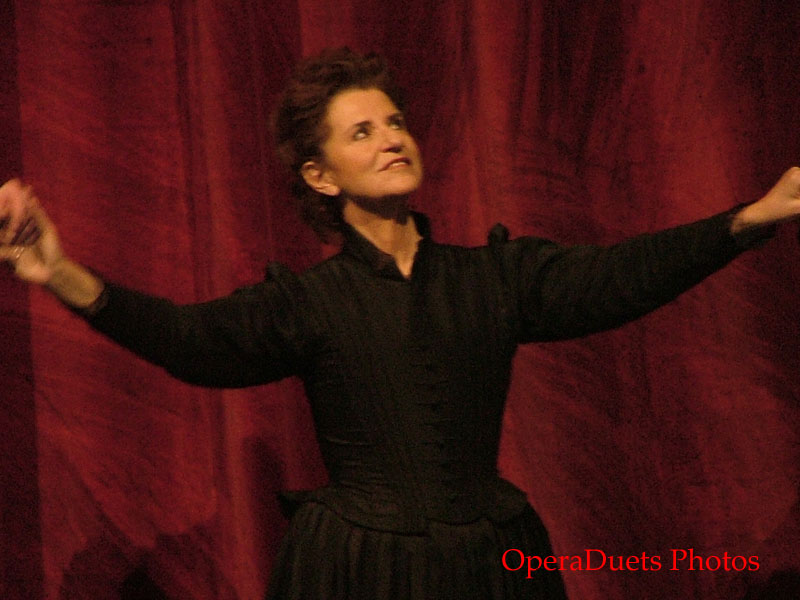 This page was last updated: June 20, 2022