Liu = Ainhoa Arteta

Calaf = Marco Berti

Timur = Stefano Palatchi

Ping = Gabriel Bermúndez

Pang = Eduardo Santamaría

Pong = Vincenc Esteve Madrid

Althoum = Josep Ruiz

Mandarin = Philip Cutlip

Giuliano Carella, conductor

Director - Nuria Espert

Scenography - Ezio Frigerio

Costume - Franca Squarciapino

Licht - Vinicio Chell

Choreography - Marco Berriel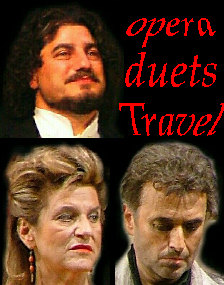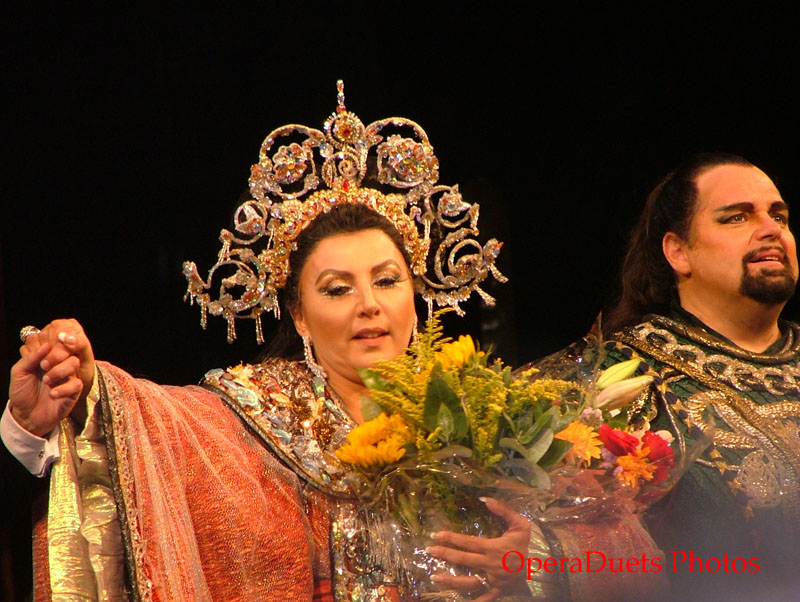 This page was last updated: June 20, 2022
It ends with a suicide.

First I thought the whole opera ended with Liu's death. Then came a curtain of the sky filled with stars in the night. A wonderful duet started. And Turandot killed herself after "I know his name. His name is LOVE". And Turandot killed herself because he was Love, and she was Death. A night filled with  horror had drowned her white dress with the blood of inhabitants of the city. Nessun dorma, he sang dreamily of glory and love, not caring that his nobody shall sleep would mean torture and death to others. Calaf only cared when his own father and Liu was threatened. And Turandot herself: fascinated by Calaf and by the sacrificial love of Liu, but in the end not willing/capable to step out of her death cult and into becoming a loving woman.

Vocally it was never any doubt about Marco Berti's Calaf. A clarion voice with both Non piangere, Liu and Nessun dorma with the closest to perfection I ever heard live. He was no tempted to hold the last tone in Nessun dorma as long as possible  I am certain he would have won that  contest. But it is opera and no contest. Ainhoa Arteta was wonderful as Liu. Stefano Palatchi as Timur was not so demanding a voice as he should. But acted wonderfully. Ping, Pang and Pong was Ok when one got over the costumes in the act 1 and start of act 2. Ping was Gabriel Bermundez who sang Silvio in Zurich on July 8. Sadly he was often the weak link. But in the 3rd act he was wonderful.

Maria Guleghina as Turandot, what can I say about her. She is definitely more of a Tosca than a Turandot. But maybe it was the production and director's fault. I wonder how it had been had Guleghina been able/allowed to put all her energy and acting skills in the role. She was best vocally and all when she could step free from the robotic Chinese choreography.

But other than that, I liked the production and the choreography (of the dancers)