Mario Cavaradossi = Miroslav Dvorsky

Scarpia = Greer Grimsley

Sakristanen = Ketil Hugaas

Angelotti = Yngve André Søberg

Sciarrone = Andreas Franzén

Spoletta = David Fielder

Fangevokter = Øystein Skre

Gjetergutt = Henrik Enger Holm

Dommer = Steinar Zahl

Roberti = Øivind Solberg

John Helmer Fiore, conductor

Regie - Paul Curran

Scenography / costumes - Kevin Knight

Light design - David Jacques

Cooperation with Canadian Opera Company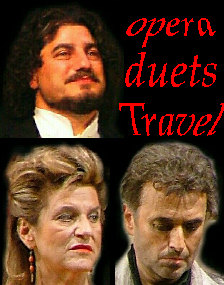 This page was last updated: June 20, 2022
Music Giacomo Puccini

Libretto: Giuseppe Giacosa og Luici Illica

This production premiered by Canadian Opera Company 26. January 2008, Norwegian National Opera 26. August 2010.

Both Greer Grimsley (Scarpia) and Miroslav Dvorsky (Cavaradossi) seemed to have been affected by the cold weather but Maria Guleghina (Tosca) was as her usual self. I was sitting on 3rd balcony on the right side. I could see more of the stage than on December 19 when I sat on Parkett right. From the beginning I could hear that Miroslav Dvorsky was not in his best form but that did but that did not hinder him from singing a fine Recondita armonia and an exceptional E lucevan le stelle. Only in the last duet it happened he lost his voice painfully. Luckily at his side a great collegue, Maria Guleghina who grasped his hands and comforted the tenor with her presence and her big voice and as a miracle the tenor found his voice back and that made the last duet even more moving. Tenor and soprano make it part of the opera. It was a happy opera night for Maria Guleghina who sang one of he finest Vissi d'arte. Maria Guleghina's interpretation of Tosca is always something to admire. She put her heart and soul into every part she sings. At this moment it is her Tosca and her Abigaille that I most admire.

After the opera I found the stage entrance and I went in to wait for my idol. I was alone, people left the opera house and there she was, the Diva with her beautiful assistant. Maria Guleghina and I are friends on Facebook but I never thought the Diva would look at me and say "it is your birthday, isn't it?". And then she sang me Happy Birthday in a natural, un-operatic way. And her assistant took a photo of me with Maria on my Birthday. O lucky day!