Nabucco = Roberto Frontali

Ismaele = Alejandro Roy

Zaccaria = Carlo Colombara

Fenena = Rosanna Rinaldi

High Priest of Belo = Silverio De la O

Abdallo = Eduardo Ituarte

Anna = Ana Otxoa

Massimo Zanetti, conductor

  Orquesta del Teatro Regio di Parma

Coro de Ópera de Bilbao

Director de escena - Daniele Abbado

Scenography - Luigi Perego

Light  design - Valerio Alfieri

It was the best Nabucco production with the best singers. Only one thing stood out for me as problematic and that was the golden hair of Zaccaria. Golden hair in the Middle East what was that about? Carlo Colombara has dark hair and could have been more authentic as Zaccaria without fake hair. This production of Nabucco was one that seemed to be about authenticity as history goes. Ismaele is clearly marked by his cloths as a Prince of Judea. Zaccaria is also similarly marked an important person. There is no doubt that Nabucco is an Assyrian King. All clearly marked except that one is never shown the chorus in Assyrian cloths. They are always dressed in Jewish cloths. This can be explained by the fact that Jerusalem is taken by Assyrians pretending to be Jews. But that is just true in the first act.

This is a beautiful production, intelligent and wants to be truthful to the libretto. Roberto Frontali, who I have seen as Stankar in the ROH Stiffelio production, was a truly fine Nabucco. Alejandro Joy was wonderful as Ismaele. Strong singing, wonderful acting. Rosanna Rinaldi was also great as Fenena. But the star was Maria Guleghina as Abigaille.

Abigaille can be boring since she is sometime acted as just a one-dimensional villain. Maria Guleghina shows all the different emotions that is Abigaille. She is weak sometimes. In this production one sees Abigaille hesitate in some crucial moment. How ambitious is she? She vacillate between power and love. Most of all she wants to be accepted as Nabucco's daughter and to be loved by Ismaele. Her feelings for her sister Fenena is also torn. Love and envy. So Nabucco changes into a believer of the God of Judea. As Abigaille loses her life she is also going to her redemption and I personally believe more in Abigaille change. Nabucco is just about his daughter Fenena.

I love Abigaille! And Maria Guleghina as Abigaille is just amazing!!!!!!!!!!!!!!!!!!!!!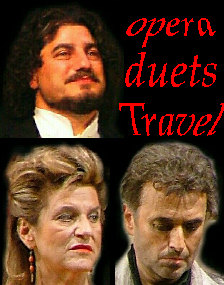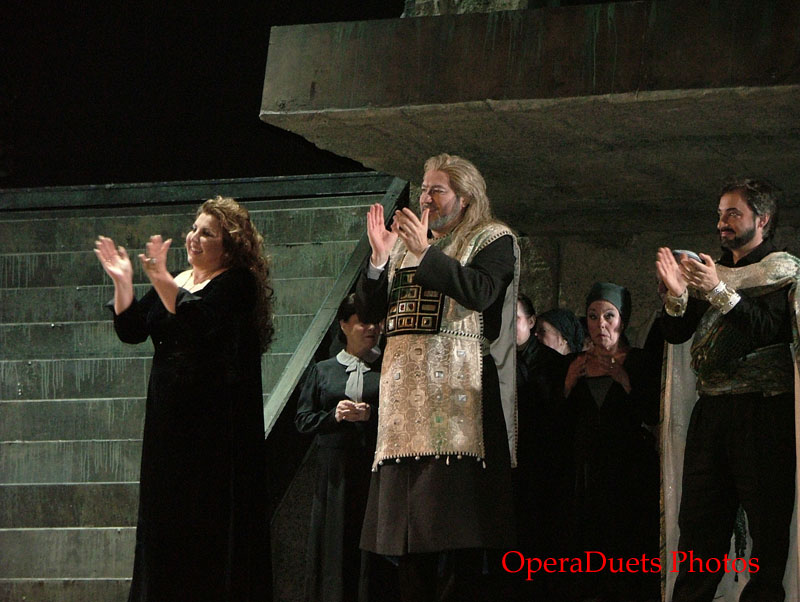 This page was last updated: June 20, 2022