2012
-12-15 Carmen (G. Bizet),
Carmen = Anita Rachvelishvili

Escamillo = Bastiaan Everink

Micaëla = Martina Welschenbach

Zuniga = Seth Carico

Moralès = Zheng Zhong Zhou

Dancairo = Jörg Schörner

Remendado = Matthew Pena

Frasquita = Hulkar Sabirova

Mercédès = Rachel Hauge

Jacques Lacombe, conductor

Regie (Søren Schuhmacher)

nach der Inszenierung von Peter Beauvais

Bühne, Kostüme - Pier Luigi Samaritani

Überarbeitung der Ausstattung - Norbert Bellen

Chöre - William Spaulding

Kinderchor - Dagmar Fiebach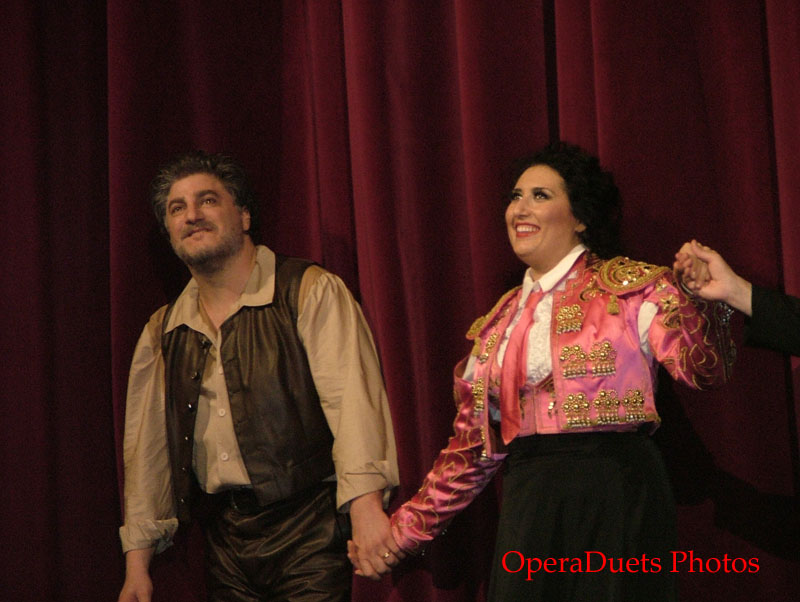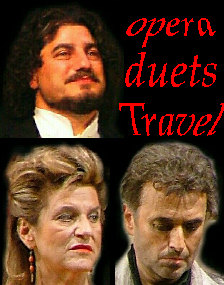 This page was last updated: January 9, 2017
I just saw my 19th Carmen in theatre. I loved it. And I just realized that this was my first and only Cura performance this year. That was unsuspected. But it was also my 99th to see José Cura. It was the 4th time I saw José Cura as Don José. First time at all with Anita Rachvelishvili. This CARMEN was special mostly because of her. Cura sang well, too. And I liked the old production.

12 years ago, or closer to 13 years ago I saw this production with Agnes Baltsa, Alberto Cupido, Michaela Kaune and Ludovic Tezier. It was a better production then without the new addiction.

The children is fighting as they singing in their angelic voices the soldiers coming and going. Now that is stupid and completely against the words they are singing. The children steals the hat from Don Jose and he has to play and plead to get it back. Now what are that about? And in the 4th act Carmen is now dress like a female matador and Frasquita and Mercedes has black dresses with wings. Black wings like death or something.  The stets for Act 3 was from another Carmen production but that was unnoticeable.

Other than that it was great. It was a lot more dialogue than usual and in what I believe to be superb French.

I saw Carmen in Berlin in 2004 too, with Agnes Baltsa, Julian Gavin, Michaela Kaune and Laurent Naouri.

Anita Rachvellishvili was the perfect Carmen. Huge voice, great personality and great actress. José Cura did his best Don José ever. Then it was the question of Escamillo (Bastiaan Everink) and Micaëla (Martina Welschenbach). Bastiaan Everink looked the part but his singing was stiff. Martina Welschenbach looked very young, very thin, the first Micaela that looks 17. Great voice but I wanted more, not sure what.

Great CARMEN!