2013
-09-14 Otello (Verdi),
Desdemona = Anja Harteros

Jago = Dmitri Hvorostovsky

Emilia = Monika Bohinec

Cassio = Marian Talaba

Rodrigo = Jinxu Xiahou

Lodovico = Alexandru Moisiu

Montano = Mihail Dogotari

Ein Herald =

Dan Ettinger, conductor

Director - Christine Mielitz

Stage-design - Christian Floeren

Costume-design - Christian Floeren

2013-09-14 OTELLO (Verdi), Wiener Staatsoper

Otello = José Cura

Desdemona = Anja Harteros

Jago = Dmitry Hvorostvsky

Conductor Dan Ettinger

When the opera started I thought the production would be about Martians and Otello coming home in an UFO. But no, this production was about colours. The light had a busy evening, going from all different colours. The coloring seemed to follow the score and the feelings. A wall of video of waters, the sea frothing in colors matching the partiture of Verdi (I guess). Other than that it was Desdemona dressed in white, angelic and pure (you know), the powerful ones in black and white except Jago, he is evil (you know). The people in black but red hands, and Nothing Explains That.

It was a very static production. The good news is: I did not fall asleep and José Cura was wonderful even though the production was eh, and he had severe back pain. Cura, the hero, fought to bring some real passion here. He even used the pain he was in physically to make his Otello really come through. A true warrior. Anja Harteros voice may not be perfect for poor, innocent Desdemona. But she is really the Soprano at the moment, wonderful in her Verdi roles. Hvorostovsky became better all through the evening, but I realised that I love deeper voices as Jago, like Ruggero Raimondi etc.

Poor Cura! After the opera he had to meet his fans at the stage door. Inside it was hot from all those fans. Outside it was rather chilly. He loved the conductor, Dan Ettinger. As a conductor himself he should know, and after so many Otellos, he knows.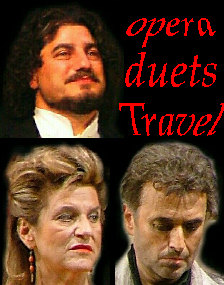 This page was last updated: June 20, 2022