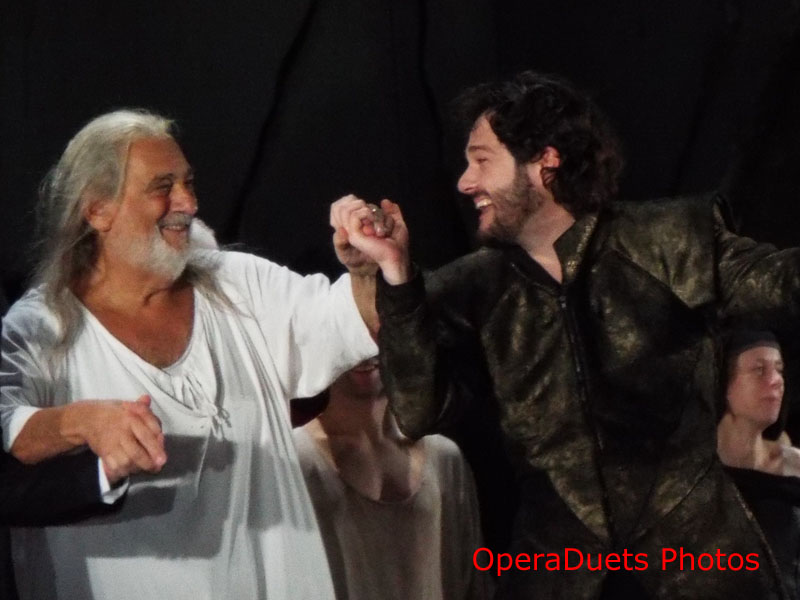 Francesco Foscari = Plácido Domingo

Jacopo Foscari = Arturo Chacón-Cruz

Lucrezia Contarini = Davinia Rodriguez

Jacopo Loredano = Roberto Tagliavini

Barbarigo = Andrew Owens

Pisana = Gaia Petrone

Fante = Ioan Hotea

Servo del Doge = Marcell Attila Krokovay

James Conlon, conductor'

ORF Radio-Symphonieorchester Wien

Arnold Schoenberg Chor (Ltg. Erwin Ortner)

Inszenierung - Thaddeus Strassberger

Bühne - Kevin Knight

Kostüme - Mattie Ullrich

Licht - Bruno Poet

I DUE FOSCARI by Giuseppe Verdi. Different from La Gioconda in many ways. Verdi's music sings of the waters surrounding Venice, the production tells of a cruel world filled up with torture and the unlucky souls caught up in the power games of the Counci of Ten. The lauded Fairness of Venice is that even a son of the current Doge can be caught in the web. Fairness, they call it, and pity as cruel verdicts is given both father and son Foscari.

La Gioconda is a Venice of later centuries than the story of the two Foscari. Whether or not Jacopo Foscari is guilty his treatment is too cruel to be fair. To our eyes Torture is never acceptable and we should never be willing to trade that truth. In the century of Foscari torture was used often, but was it thought acceptable then? Due Foscari had a lot of torture going on onstage. I hated that, but it was not put there on a whim, it was telling the story. I am just not a fan of cruelty onstage but even more do I object to the cruelty of torture and courts of law where the law is followed in such a way that it is a mockery of human lives and their sanctity. It is an important lesson but are we willing to see it as it happens now somewhere on the planet and work against the ills of our world.

Arturo Chancun-Cruz was able to justice to Jacopo Foscari, singing as a god as Jacopo was tortured on stage. That must have taken a lot of will power. Behind the scenes and onstage people must have really been learning a lot of safety features unssen by the audience as all that torture happened.

Davinia Rodriguez as Jacopo's wife, Lucrezia Contarini, had so many different palettes of sounds. In the end she would win the audience heart. The hardest role was hers and she was amazing.

Placido Domingo as the old Doge Francesco Foscari. Unhappy father and now he was to lose his last son. The implacable enemy wanted all Foscaris gone and dealt with and with the power of the Council of Ten in his hands he had the power, The Doge dies utterly unhappy with no shame spared. Loredano  uses a mock pity is used to knife his victims.

Foscari has not yet drawn fully his last breath before the new Doge in crowned. Loredano' justice has been served.

I DUE FOSCARI is a masterpiece just like La Gioconda. The story of Foscari is part of the history of Venice. La Gioconda is a story that happens to be in Venice.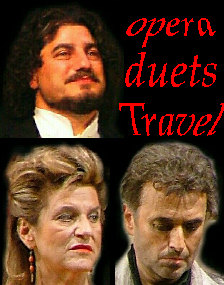 This page was last updated: June 20, 2022