Minnie = Nina Stemme

Jack Rance = Tomasz Konieczny

Nick = Carlos Osuna

Ashby = Alexandru Moisiuc

Jake Wallace = Gabriel Bermúdez

Sonora = Boaz Daniel

Bello = Tae-Joong Yang

Happy = Clemens Unterreiner

Joe = Benedikt Kobel

Jim Larkens = Marcus Pelz

Trin = Thomas Ebenstein

Harry = Peter Jelosits

Sid = Mihail Dogotari

José Castro = Gabriel Bermúdez

Wowkle = Ilseyar Khayrullova

Billy Jackrabbit = Il Hong

Postiglione = Jinxu Xiahou

Graeme Jenkins, conductor

Director  & Set design - Marco Arturo Marelli

Costumes - Dagmar Niefind

Lighting design - Marco Arturo Marelli

Of course you can update an opera. You just have to be careful about what that does to the story, the persons and their surroundings. It was not too bad but an update should give the opera a lift or something and that never happened. The only uplifting thing was the balloon. And the balloon ending did not make much sense. Did the director intend is as a laugh and so making it all a laughingstock.

Puccini's latest masterpiece, La Fanciulla del West, in Wiener Staatsoper was simply not played well enough to be take flight. A Spaghetti Western just like an opera is always best when played straight. Updated to the 1950s so we have electricity and Minnie comes to work in an overall. The first act just looked wrong and with the help of the orchestra and conductor it did not sound that good either.

First act started with the otherwise fine conductor putting holes and airs where sound should have been and putting the wall of sound too high at other times. From the first phrase he was off the wrong horse. As the act progressed it became better. The chorus was a mess maybe because it was not so much a  chorus of choristers as a chorus of soloists. The blue overall made Minnie into a too boyish or mannish woman. It was not before act two that Nina Stemme was allowed to be a more attractive Minnie. The minor soloists never really came off as persons. Nick, Larkins and Ashby was the one could mark but not truly noticable. Sonora, who? Nina stemme was Nina Stemme more than Minnie. The gruff-voiced Sheriff Jack Rance was there. Then Jose Cura comes and we have an opera!! The tenor is here. So I start day-dreaming of Nina Stemme as Isolde and Jose Cura as Tristan. Of course, my day-dreaming was cause by Nina Stemme, the Wagnerian soprano. Jose Cura as Tristan ¿que idea? singing Tristans death scene!

The first acts ends with a lovely duet of Dick Johnson and Minnie. Best part until the rest of the opera. Then intermission. Only 1 pause because act 2+3 are played together. 

I love act 2. It was charming, it worked. Nina Stemme was most beautiful and Jose Cura the most handsome. Minnie is running so fast towards her first kiss that they both fell on the floor and then almost made out. So that was a bit over the top but maybe that is what Fanciulla needs. The wonderful tenor aria was marred by one unfortunate loud cough, but it was still divine.

Act 3 I do not love. Usually I feel it drags on forever untill finally the tenor since the great act 3 aria which is really the highlight. Somehow this production never makes you feel that this is a manhunt out to get Ramerrez. And one does not fear for this man life so when Minnie comes to rescue him there is still no tension. Then off they go in a many coloured balloon. And that finally burst my balloon.

A  lovely ending that does not fit.  It was not awful but it was not great.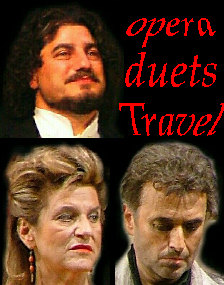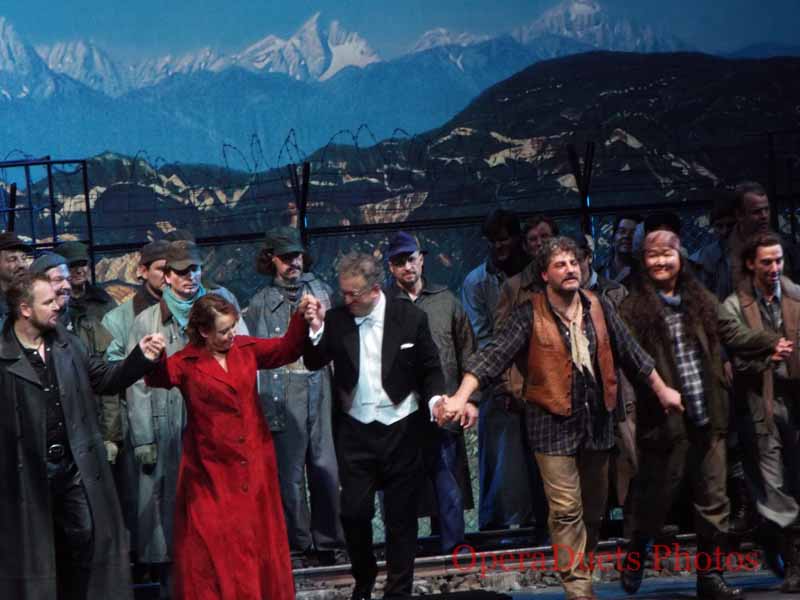 This page was last updated: June 20, 2022