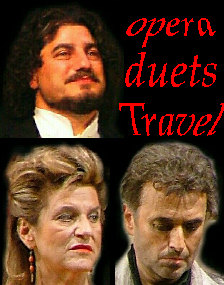 NEIL SHICOFF - 40 JAHRE BÜHNE

Les Contes d'Hoffmann (Jacques Offenbach) – Prolog

Hoffmann: Neil Shicoff

Lindorf: Paolo Rumetz

Nicklausse: Stephanie Houtzeel

Andres: Thomas Ebenstein

Luther: Marcus Pelz

Hermann: Clemens Unterreiner

Nathanael: Carlos Osuna

Pique Dame (Peter I. Tschaikowski) – 2. Akt, 2. Szene

Hermann: Neil Shicoff

Lisa: Krassimira Stoyanova

Gräfin: Anja Silja

Mascha: Hyuna Ko

La Juive (Jacques Fromental Halévy) – 4. Akt

Eléazar: Neil Shicoff

Kardinal Brogni: Ferruccio Furlanetto

Rachel: Krassimira Stoyanova

Eudoxie: Simina Ivan

Carmen (Georges Bizet) – 4. Akt

Carmen: Elena Maximova

Don José: Neil Shicoff

Escamillo: Clemens Unterreiner

Frasquita: Simina Ivan

Mercédès: Juliette Mars

Frédéric Chaslin, conductor

What a disappointment, coming to Neil Shicoff 's Gala and no Agnes Baltsa as Carmen to his Don Jose. From the greatest Don Carlo of Rolando Villazon et co. in Berlin. Had I known that Baltsa would not sing I would have seen Don Carlo for the 2nd time on this day instead I got the cold in Vienna and Neil Shicoff.

Having just seen Les Contes d'Hoffmann with Rolando Villazon in a great production seeing the prolog was nothing much. Shicoff can act and sing, but he is not my guy.

Pique Dame - Shicoff was great as Hermann. Anja Silja was not that audible. Krassimira Stoyanova was having an Off day, or maybe it was just that I was OFF.

Interval

La Juive - not the whole end but we got the Aria from Eleazar. Simina Ivan and Krassimira Stoyanova could have been the Duet of the Ages but they had aged since I saw them in the of Eudoxie and Rachel. Ferruccio Furlanetto as Brogni, he only gets better with age but then he is a bass.

CARMEN - the end

Elena Maximova is the new CARMEN on the block. Neil Shicoff acts but he is no Carreras, Domingo, Cura & Alvarez. Clemens Unterreiner was Escamillo and a good, solid one.

Frederic Chaslin conducted it all.

Then  when we thought it was over we got 45 minutes or so with speaches. Shicoff ended it with his I am so nervous, the most nervous if them all. The audience gives us the energy not the other way around. And thank god for my wife, Dawn Kotoski.

And I am still not cured. Kleenex forever!!!

This page was last updated: January 9, 2017