(Grieghallen)

Violetta Valéry =

Ingjerd Oda Mantor

Flora Bervoix = Torill Eriksen

Alfredo Germont =

Kjell Magnus Sandve

Annina = Eva Solheim

Georgio Germont =

Trond Halstein Moe

Gaston, Viscomte de Utorires =  Mikael Fagerholm

Barone Duphol = Jens Olai Justvik

Marchese d'Obigny =

Bjørn Mørch Olsen

Dottore Grenvil = Bjørn Lie-Mansen

Giuseppe, servo di Violetta = Giuseppe Chiarello

Terje Boye Hansen, conductor

Regie - Jens Christian Ek

Scenography - Madla Bruza

Choreograph - Frederic Konrad

Den Norske Opera, Bergen Grieghallen

Conductor: Terje Boye Hansen

Violetta Valéry: Elena Brilova 14/1,16/1

Ingjerd Oda Mantor 15/1

Flora Bervoix: Torill Eriksen

Alfredo Germont: Kjell Magnus Sandve

Annina: Eva Solheim

Georgio Germont: Jan SødaI14/1, 16/1

Trond Halstein Moe 15/1

Gaston, Viscomte de Utorires: Mikael Fagerholm

Barone Duphol: Jens Olai Justvik

Marchese d'Obigny: Bjørn Mørch Olsen

Dottore Grenvil: Bjørn Lie-Mansen

Giuseppe, servo di Violetta: Giuseppe Chiarello

Domestico di Flora: Birger Barring

Commissionario: Roald Nygard

Den Norske Operas Chorus

Bergen Filharmoniske Orkester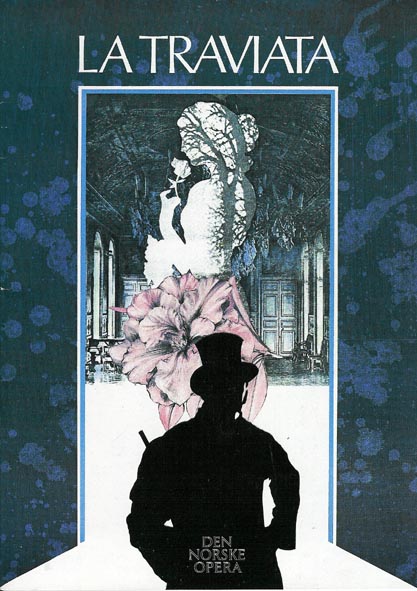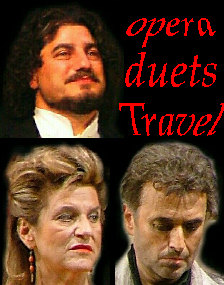 This page was last updated: June 20, 2022
15 YEARS LATER, trying to remember.

First I do not remember if it was January 13, 14, 15.

I was having my second job or was between jobs. Living close to the concert hall (Grieghallen) it was easy to get tickets.

I remember enjoying seeing this opera production again with other singers.