DEUTSCHE OPER BERLIN

Saturday, 5. February 2000

Time: 19.00-22.30 hrs

Georges Bizet

Carmen

Conductor: Ralf Weikert (Jiri Kout)

OPERA COMIQUE

with spoken dialogue

FIRST TIME for me: AGNES BALTSA live AS CARMEN

My first time in Berlin, too, but that's another story. It was not Agnes Baltsa's first time in Deutsche Oper Berlin. She really seemed to enjoy herself. Her voice was velvety. In the beginning she seemed to be suffering from a cold. Maybe that cold had prevented her from singing Carmen in Zurich in January. To describe this evening in the Deutsche Oper, I must invoke the video from Metropolitan with Baltsa/Carreras. That was February 1987, 13 years ago. (My favorite video)-

Act 1: Much more beautiful setting in Berlin, than the Met. The people seemed more real. Beautiful dresses for the city folks. Morales (Kay Stiefermann, for an indisposed Peter Edelman) was funnier than the townspeople. Michaela (M. Kaune) was very pleasing in her singing and acting. More exciting than the Met. Zuniga was very imposing, great bass, this Arutjun Kotchinian. Alberto Cupido, beautiful tenor voice, a real pleasure! The french dialogue was better spoken in the Met. AGNES BALTSA, incredible how she made Act 1 more exciting than I could have imagined it possible. When she was standing still, not even singing, just like all electricity was in her body. She was throwing some voltages to poor Don Jose. Agnes Baltsa even better than in video, how is it possible!!!

Act 2: The Lillas Pastia Tavern is really outside Seville, almost in the mountains. Quite understandable that the smugglers chose this place to be their rendezvous ordinaire. CHANSON BOHEMIENNE!!!. Agnes Baltsa is throwing herself into the singing/dancing. Beautiful voices from Mercedes & Frasquita. Escamillo (Ludovic Tézier), he is thrilling. Carmen is the only one not interested in him. Escamillo is singing the Toreador's Song and I am watching  Carmen. Baltsa is thrilling in just being  there, on stage, as Carmen.

Smugglers Quintet. Great. Loved sitting there listening for Agnes Baltsa's voice among all voices. Then Don Jose comes in. Although Alberto Cupido sings the Flower Song  really well, has a beautiful voice. There is nothing wrong in his acting abilities. I long for the thrill (no 'that') Carreras brings  in the video from the Met. SHE is great. The greatest moment of this act is "Non, tu ne m'aimes pas". That is simply GREAT. But the extra thrill is lacking. (It could be just because I am a Carreras fan, but...)

Zuniga, who is sung by an extraordinary bass, comes in. Or rather forces himself in. Breaking in, ridiculing Jose. Naturally the duel. Carmen makes the joke go to him, Zuniga, calling the other smugglers. For the first time, I realized that Don Jose could have chosen not to become a smuggler. It would have been another jail-sentence....

Act 3: A dangerous spot in the mountains. More reality than in the Met. What a great chorus Deutsche Oper has. So clear the voices ring. GREAT AGNES BALTSA!! Card Scene!! thrills upon thrills. The dialogue with the Guide, was better than in the Met. Not so exaggerating. MICHAELA Kaune sang the aria, with all what you can want. Duet/Duell Jose/Escamillo another highlight. CARMEN saves Escamillo!!. Fury from Don Jose. Then Michaela is found, the Ensembles is caressing my ears.

Act 4: Lovely scene outside the Arena. Maximum use of little place, and few people. Seems more than it is. Grand Parade! Duettino Escamillo/Carmen, Mercedes/Frasquita warn Carmen. GRAND DUET Jose/Carmen. ALL HIGHLIGHTS!!

Don José = Alberto Cupido

Micaela = Michaela Kaune

Escamillo = Ludovic Tézier

Zuniga = Arutjun Kotchinian

Frasquita = Esther Lee

Mercedes = Mariana Cioromila

Morales = Kay Stiefermann

Remendado = Uwe Peper

Dancairo = Morten Ernst Lassen

Lillas Pastia = Frido Meyer-Wolff

Andres = Ulrich George

Ralf Weikert, conductor

Regie - Thomas M. Zipf

Scenography - Pier Luigi Samaritani

Choir - Helmut Sonne

Choreography - Klaus Beelitz

Carmen = AGNES BALTSA

great singing, acting and dialogue

Her Carmen is wild, only one Law (her own)

More persuading than ever! More Electricity! Fantasy Carmen!

Don Jose = ALBERTO CUPIDO

great tenor voice, beautiful voice!

Difficult to hear what he is saying

Michaela = Michaela Kaune

Great Soprano voice

Acting and dialogue

Escamillo = Ludovic Tézier

Toreador's Song Great

Better than Ramey?

great voice, acting, dialogue

Zuniga = Arutjun Kotchinian

What a Voice!!!!

Greater than most Basses!

Personality!!

FRASQUITA = Esther Lee (Cornelia Götz)

MERCEDES = Mariana Cioromila

MORALES = Kay Stiefermann (Peter Edelmann)

REMENDADO = Uwe Peper

DANCAIRO = Morten Ernst Lassen

LILLAS PAASTIA = Frido Meyer-Wolff

ANDRES = Ulrich George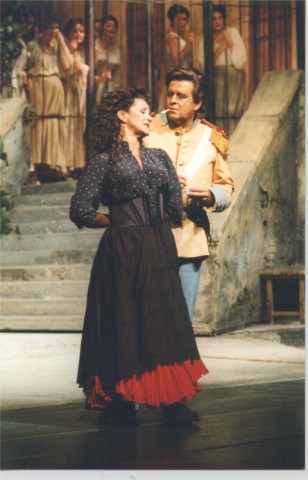 I was there, Deutsche Oper Berlin, February 5, 2000.

My first live Carmen with Agnes Baltsa, and first time to hear Alberto Cupido. I liked this production very well. Alberto Cupido's voice was beautiful. Agnes Baltsa seemed to be very young.  Unbelievable!!!

I liked very much the opera house. It is so unlike Wiener Staatsoper and Opernhaus Zürich with their beautiful decorations inside and outside. Deutsche Oper Berlin is very strict.

Inside the opera house, in the salon, as they often call it, I got a cinema-feeling. Except that the opera is live, which gives the experience another dimension. The cinema-feeling, is that nothing except what is going on on stage matter. I could see the whole from the place I was sitting. Really, really great.

It was exciting, as if I didn't know what was going to happen.

Another great tenor to be fan of!!!!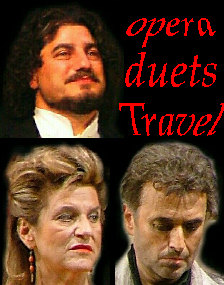 This page was last updated: June 20, 2022