Verdi: Luisa Miller

Opernhaus Zurich, March 4,

After Millers great aria in act 1 on man cried "Bravo, Giorgio!"

Stefania Kaluza was great as Federica, a comprimario role, she always have an imposing presence. Laszlo Polgar was in magnificent voice. Wurm was in good hands and voice, Carlos Chausson. Neil Shicoff was a dream for his fans, but unfortunately not for me. Elena Mosuc was a charming Luisa, but I felt that something was missing. 

Wonderful to be able to see Luisa Miller live anyway. Love Verdi! and Opernhaus Zürich!

Better listening, a better Luisa & Rodolfo

Graf von Walter = Laszlo Polgar

Rodolfo = Neil Shicoff

Federica = Stefania Kaluza

Wurm = Carlos Chausson

Miller = Giorgio Zancanaro

Luisa Miller = Elena Mosuc

Federica = Stefania Kaluza

Frédéric Chaslin, conductor

lnszenierung - Daniele Abbado


Regiemitarbeit - Boris Stetka

Bühnenbild - Dante Ferretti

Bühnenbildmitarbeit - Leila Fteita

Kostüme - Gabriella Pescucci,
Flora Brancatella


Lichtgestaltung - Jürgen Hoffmann

Filmbilder - Luca Scarzella

Chor - Jürg Hämmerli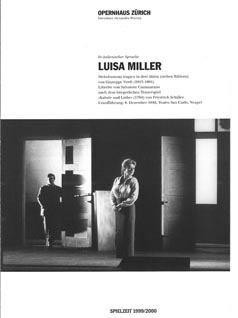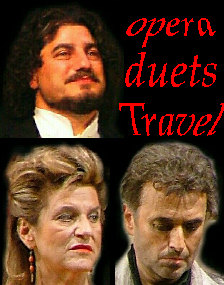 This page was last updated: June 20, 2022