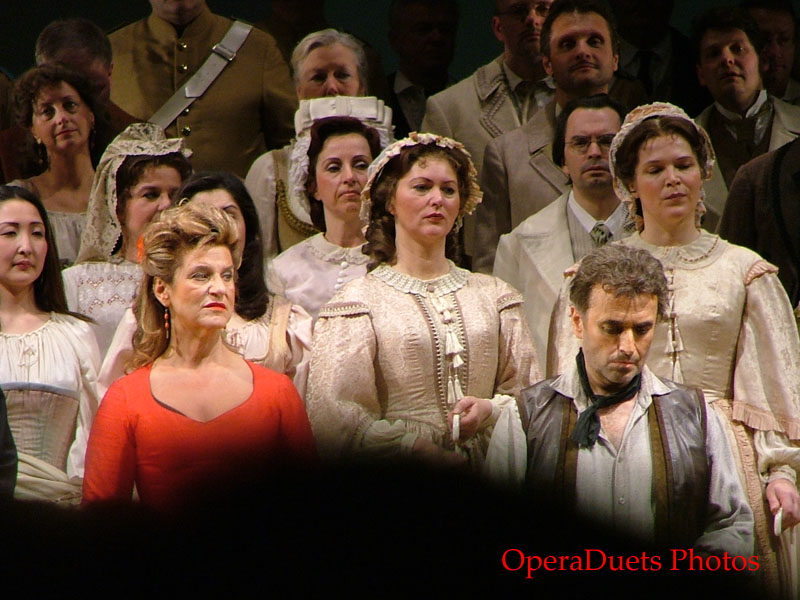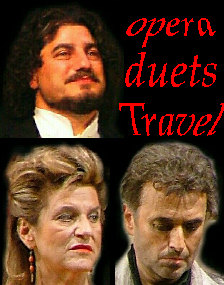 Part 1: Recital

Lorenzo Bavaj, piano

Part 2: Sly (act 3)

by Ermanno Wolf-Ferrari

Dolly = Isabelle Kabatu

Diener = Boaz Daniel

David Giménez, conductor

Costumes - Washington Opera

Part 3: Carmen (act 4)

by Georges Bizet

Escamillo = Boaz Daniel

Mercédès = Stella Grigorian

Frasquita = Bori Keszei

David Giménez, conductor

Franco Zeffirelli Production

27. February 2004

José Carreras Benefit Gala,

Wiener Staatsoper.

Leukemia Foundation

30 years since Carreras made his debut in Wiener Staatsoper as the Duke in Rigoletto (1974).

Part 1:

Lieder & Arias by 

Puccini, Verdi, Massenet, Cilea & Tchaikovsky.

Part 2: Sly (act 3)

by Ermanno Wolf-Ferrari

Part 3: Carmen (act 4)

by Georges Bizet

(Firma Peter Kupfer Kulturmanagment & Media.)

-------------A Fantastic Night at the Opera--------------------------

Traveling had given my a bit of a head-

ache, but this was a magic day, Carreras in Wiener Staatsoper again, my head-ache just had to be cured in time. After a few tablets I was almost ready for Carreras and Opera. With my new camera I came to Vienna State Opera ready for a new meeting with Carreras' voice.

The first part was Carreras and Bavaj (piano) and songs of Tosti, Leoncavallo and Puccini. I found Carreras voice a bit heavy now for the lovely love songs, but in the French songs by Leoncavallo, and finally in Puccini he was much more in his right element. His voice is definitely right for opera.

The second part was Sly, last act. You really need to have seen the whole opera to really understand the agony Sly is in and what kind of person Sly is. Carreras was a wonderful Sly. But when Isabelle Kabatu came in that was when the level started to be ethereal. God, what a divine voice, and Carreras and Kabatu was just magic together. Sly dies and Dolly rages towards the cowards that have destroyed something really beautiful. It was a really heart-wrenching scene. And Giménez does make Wolf-Ferrari´s music really into the most fantastic music.

Giménez conducted Carmen with Baltsa & Carreras, last act. What can I say other than it was fantastic? Only this, I really wanted the whole opera with Carreras and Baltsa singing conducted by David Giménez.

Of course the Vienna audience was wild with excitement and love. There were speaks by Ioan Holender in the end, and a thank-you- speech from Carreras. And after the first part a big pay-check was given to Carreras.

This page was last updated: June 20, 2022