Ewa Podles, mezzo

Roman Markowicz, Piano

I

Frédéric Chopin (1810-1849)

El desig de la noia, op. 74, núm. 4

El noi ben plantat, op. 74, núm. 8

L'anell, op. 74, núm. 14

Cançó lituana, op. 74, núm. 16

Estimat, op. 74, núm. 12

Gioachino Rossini (1792-1868)

Giovanna d'Arco (Cantata)

"E Notte"

"O mia madre"

"Eppur piange"

"Ah, la fiamma"

"Corre la gioia"

II

Serguei Rakhmàninov (1873-1943)

Crist ha ressucitat, op. 26, núm. 6

Des que ha arribat l'amor, op. 14, núm. 3

En el silenci de la nit, op. 4, núm. 3

Tot passa, op. 26, núm. 15

Tant bella com el migdia, op. 14, núm. 9

Rius de primavera, op. 14, núm. 11

Johannes Brahms (1833-1897)

Zigeunerlieder, op. 103

"He, Zigeuner", núm. 1

"Hochgetürmte Rimaflut", núm. 2

"WiBt ihr", núm. 3

"Lieber Gott", núm. 4

"Brauner Bursche", núm. 5

"Röslein Dreie", núm. 6

"Kommt dir manchmal", núm. 7

"Rote Abendwolken", núm. 8 

  Date        Serie  Price scale*

  Saturday 05-02-2005  18:00 h F IV 

Saturday 5th, 2005. I decided go early to the Gran Teatre del Liceu

to get the guided tour at 10am and I decided also to see the club

Cercles de Liceu. Of course the most interesting part of the opera

house was closed, the backstage, the technical areas, and not

allowed to take photos of the stalls, but the mirror hall was allowed. And the club was nice, but not that interesting. I only got a head-ache after these guided tours. Then I needed some food and I  went to the McDonalds just over the road of Espai Liceu. I had an interesting view. The McDonalds sign at the top of the small window and the view of Liceu and in the middle the front of the program of Wolff-Ferrari´s Sly which I saw in June 2000. Ironic and worlds apart.

Then in the evening, Recital Ewa Podles at 1800. It lasted 2 hours with songs of Chopin, Rossini, Rachmaniov & Brahms, the first extra Cruda sorte from Rossini´s L'Italiana in Algeri. and then something that sounded like de Falla's Polo from Siete cançiones españolas, and Spanish song of Rossini.

Then I waited for Ewa Podles to come by the stage door. I took some

photos, and almost talked to her.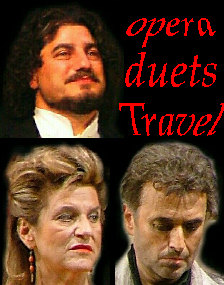 This page was last updated: June 20, 2022