Nabucco = Leo Nucci

Ismaele = Nazzareno Antinori

Zaccaria = Giacomo Prestia

Abigaille = Susan Neves

Fenena = Tiziana Carraro

High Priest of Belo =

Francesco Palmieri 

Abdallo = Luca Casalin

Anna = Cristina Pastorello

Vjekoslav Sutej, conductor

Director- Graziano Gregori

Scempgraphy - Graziano Gregori

Costume design - Carla Teti

Lucky for me it did not rain in the evening of Nabucco. It had been raining on June 29 and even thunders and lightning, the next day not so much. on July 1rst it was raining from the morning and then stopped. But in the evening the clouds again looked heavy, and when I came to Verona with the Opera Bus the clouds were hanging heavily and dark over the Arena. Then the time neared for Nabucco to start, suddenly the sky was clear.

The conductor Sutej was a wonderful opera conductor but although the overture was wonderful I remembered Jose Cura and his conducting of this overture as superior. This was a wonderful production but still even with Leo Nucci being a fantastic Nabucco an everything being quite OK I found the Nabucco in the Arena was no match to the Nabucco I have seen in Vienna State Opera. Susan Neves was an energic Abigaille who acted and sung with aplomb. Fenena and  Ismaele was good enough, a true mezzo as Fenena was usual (I found) but wonderful. Giacomo Prestia was a good Zaccaria. But I missed the Vienna production that brought me to the heart of the matter in this opera, here I was on the outside looking in. The Va pensiero chorus was dacapo'ed.  The audience loved it, and was especially fond of Leo Nucci, Giacomo Prestia and Susan Neves.

But whereas Miroslaw Dvorsky as Ismaele and Eliane Coelho as Abigaille in Vienna 2002 was something to remember, they were great, Nabucco in the Arena was more a big fuss than an opera.

Nabucco might seem perfect for an arena with its big chorus's but that makes the drama harder to unfold where as the intimacy of an opera house makes it more an emotional tour.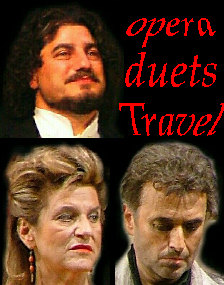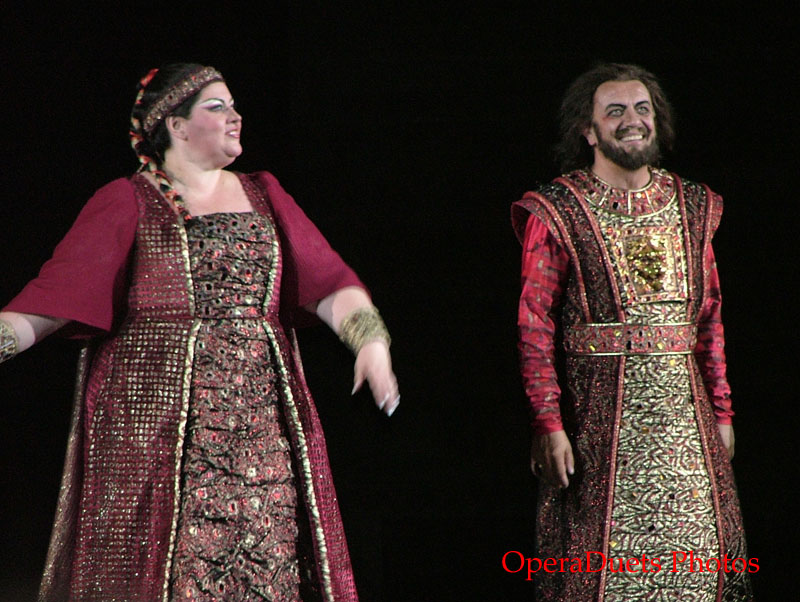 This page was last updated: June 20, 2022