Turandot = Giovanna Casolla

Altoum = Angelo Casertano

Timur = Paolo Battaglia

Liù = Maya Dashuk

Ping = Marco Camastra

Pong = Giovanni Floris

Pang = Iorio Zennaro

A mandarin = Carlo Kang

The prince of Persia = Saverio Bambi

Lü Jia, conductor

Director - Yuri Alexandrov

Scenographer  - Viacheslav Okunev

Costume Designer  - Viacheslav Okunev

Choir Master - Marco Faelli

Director of the Corps de Ballet - Maria Grazia Garofoli

Lighting Designer - Paolo Mazzon

Director of stage design - Giuseppe De Filippi Venezia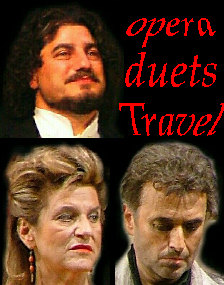 On August 29 my parents and I went to Venice. It was a wonderful and hot day. This day, August 30th we visited the house of Juliet and her "tomb". So it should have been more appropriate if it was Bellini's "I Capuleti ed i Montecchi" or Gounod's "Romeo et Juliette" that was the opera of the evening.  Instead it was the great fable of Turandot, the same opera that I saw most of in 2003, but this time, luckily, the weather was on our side, no rain or thunder interrupted the opera. And I got to hear and see the whole end of the opera from "Principessa di Morte" and the happy ending.

This was truly an happy ending for our trip to Verona. The next day  we would be turning back to our home.

Needless to say it was a wonderful opera night. I think this Turandot production very beautiful as it is, is still not quite to my liking. Jose Cura was powerful as Calaf, if the singing was not ringing enough, the acting was. It would have been wonderful to see Turandot twice, but that August 27 was canceled did not hurt so much after such a wonderful end.

This page was last updated: January 10, 2017