The King = Carlo Striuli

Amneris = Marianne Cornetti

Aida = Amarilli Nizza

Radames = Salvatore Licitra

Ramfis = Giorgio Surian

Amonasro = Silvano Carroli

A messenger = Enzo Peroni

High Priestess = Nicoletta Curiel

Daniel Oren, conductor

Director - Franco Zeffirelli 

Scenographer - Franco Zeffirelli 

Costume Designer - Anna Anni 

Choreographer - Vladimir Vassiliev 

Choir Master - Marco Faelli

Director of the Corps de Ballet -  Maria Grazia Garofoli

Lighting Designer - Paolo Mazzon

Director of stage design - Giuseppe De Filippi Venezia

Lead guest dancer Myrna Kamara

Male lead dancer Giovanni Patti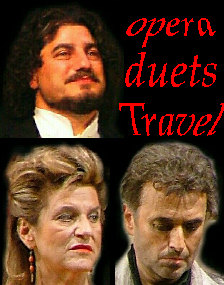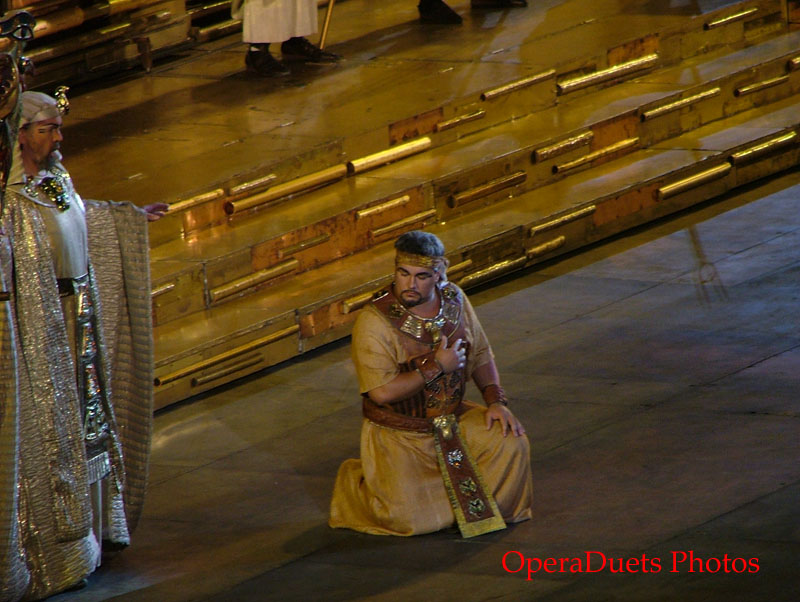 Just the day before we arrived in Verona, on August 27 I should have seen Turandot in the Arena but it rained away.  First it seem that if the opera was to be canceled we still wouldn't get our money back because of Arena rules. But luckily when we had waited over 2 hours for the opera to begin or be canceled, then finally it was announced canceled and we could get our money back. Back to the ticket office, I queued for over 1 hour, so at midnight we were ready to go to our hotels. Dripping wet, of course...

But another day was Sunday August the 28th. The sun was shining. And hope was high. Yesterday was but a memory.  And as it was closing to evening and opera night, still the rain had not come, and it was a nice hot evening. For the first time my parents was to see Aida in the Arena.  The perfect end of a perfect day. Being tourists in Verona, and then a soiree with JCx-friends as an aperitif for the opera, even though the Radames of the evening was Salvatore Licitra and not Jose Cura, our  hero for the Jose Cura Connexion.

My parents was so overwhelmed by Aida that they simply refused to go to another opera, Turandot with Jose Cura as Calaf (August 30th).  And I do agree with my parents: this was a perfect Aida. Salvatore Licitra with his ringing voice. Marianne Cornetti as Amneris and Amarilli Nizza as Aida was great.  Carlos Striula as the King and Giorgio Surian as Ramfis was two great basses. Silvano Carroli did his best as Amonasro, a bit worn in voice.  The acting was phenomenal in this Aida. Just on the point, and never a second late or too early, the ever-troubling problem of opera acting. 

Salvatore Licitra was so great as Radames that I almost thought of changing Jose Cura for Licitra. But my heart is set on Cura. Even if I thought that Licitra sang more beautiful than Cura, but I cannot imagine myself traveling so often for Licitra. It will be always JCx!!

This page was last updated: June 20, 2022