Agnes Baltsa Gala-Konzert 

Dienstag, 19. Dezember 2006, 19:30 Uhr Großer Saal 

Agnes Baltsa, Mezzosopran

Dirigent: Nikos Athinäos

Münchner Symphoniker

Veranstalter

Stimmen der Welt Konzerte GmbH.

1:

Verdi: Ouvertüre,  "La forza del destino"

Verdi: La canzone del velo, "Don Carlo"

Massenet: Prelude1. Akt, "Werther"

Massenet: Va! Laisse couler mes larmes, "Werther"

Bizet: Entr'acte Akt 4, "Carmen"

Bizet: Carreau, pique... la mort!, "Carmen"

Berlioz: Ouvertüre, "Les Troyens"

Berlioz: Ah! Ah! Je vais mourir, "Les Troyens"

2:

Rossini: Ouvertüre, "Italiana in Algieri"

Rossini: Cruda sorte, "Italiana in Algieri"

Saint-Säens: Bacchanale, "Samson et Dalila"

Saint-Säens: Amour, vienne, "Samson et Dalila"

Mascagni: Intermezzo, "Cavalleria rusticana"

Mascagni: Voi lo sapete, o mamma,  "Cavalleria rusticana"

extra:

Puccini: O mio babbino caro, "Gianni Schicchi"

Bizet: Habanera & Seguidilla, "Carmen"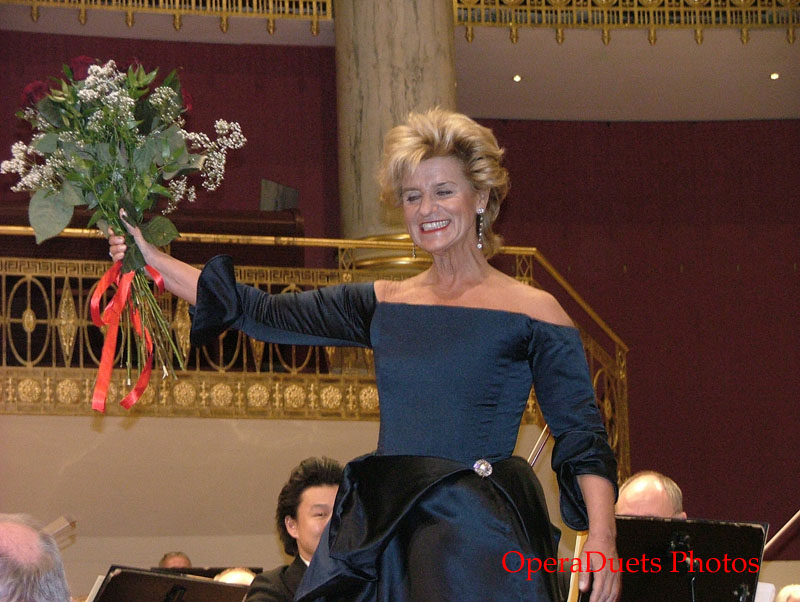 Münchner Symphoniker

Nikos Athinäos, conductor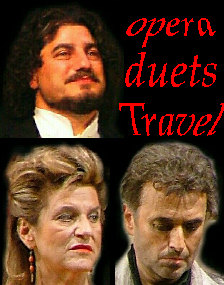 Agnes Baltsa in her blue dress, famous from many great concerts.

Exactly the same concert as in Munich. But of course, no concert is really like, not completely. Another audience, both enthusiastic, but in Munich there were more "come more often to us". Vienna is simply a Baltsa city where she visit often. As Carmen, Herodiade, Küsterin, Isabella.

Baltsa seemed fresher in Munich, took more often applause. The Orchestra played better in Vienna, giving the music full opera treatment. A bit tired maybe or with a hint of cold, her Eboli aria (La canzone del velo) was a joy, even better than in Munich. Her Charlotte aria (Vas, laisse couler mes larmes) was also a earth-chattering experience. Always the great Carmen (Carreau, pique) was are there enough words to find the right praise. And Didon (Je vais mourir), even if I would have loved more happy tunes with Baltsa, I would not think about Baltsa and death in the same sentence, but the Berlioz aria was so heavenly beautiful.

Second part gave us Isabella (Cruda sorte), Dalila (Samson, recherchant ma présence - Amour! viens aider ma faiblesse!) and the  Santuzza aria.  And as she is the perfect Isabella, Dalila and Santuzza it was just simply the best arias. And this time she sang Dalila's aria so well that even Mon coeur s'ouvre a ta voix was not so missed.

And the extra number, long time since they were any surprise was a wonderful O mio babbino caro and Habanera and Seguedilla.

Conclusion: I would so like to see Baltsa onstage as Eboli in Don Carlo or Didon as Les Troyens, and as Charlotte in Werther or Dalila in Samson et Dalila. And Isabella in Italiana or Santuzza in Cavalleria Rusticana. Do I need to see Agnes Baltsa as Carmen for the 10th time, I believe that I do need that too, but Eboli and Dalila would mean more to me.

This page was last updated: June 20, 2022