Philipp II. = Matti Salminen  

Rodrigo = Simon Keenlyside

Elisabeth von Valois = Olga Guryakova

Prinzessin Eboli = Luciana D´Intino

Großinquisitor = Kurt Rydl

Mönch = Goran Simic

Tebaldo = Laura Tatulescu

Lerma = Vladimir Moroz

Herold = Vladimir Moroz

Stimme vom Himmel = Ileana Tonca

Marco Armiliato, conductor

Inszenierung, Bühnenbild und Kostüme - Pier Luigi Pizzi

Chorleitung - Janko Kastelic

Elisabeth de Valois (Olga Guriakova, Olga Guriakowa, Olga Guryakova, Olga Guryakowa)

Don Carlo (it.)

Dirigent   Marco Armiliato

Deputierte aus Flandern:

Hannes Lichtenberger

Karl Nebenführ

Friedrich Springer

Hacik Bayvertian

Gerhard Panzenböck

Josef Stangl

Mario Steller

Hermann Thyringer

I liked this traditional production very well. And they are all singing and acting very well. That Jose Cura was booed on the first night (December 8th) was strange to hear. He certainly sang very well tonight. The trio was also wonderful. Cura does not always have the beautiful sound that Jose Carreras used in the Salzburg production (DVD), but he was still a very good Don Carlo in Vienna. Luciana d'Intino was herself as Eboli, wonderful, but no Baltsa. Olga Guryakova had a wonderful voice and  was a good actress.  Simon Keenlyside was a really good Posa, I just wish he could have his hands still for longer periods, they were really distracting.  Matti Salminen was even better as Filip this time compared to Zurich 25.11.06.

But then there was a conductor, Marco Armiliato, who was slowing the tempi at the most curious times. But Olga Guryakova was such a strong singer she could sing this SLOW "non pianger, mia compagna", many sopranos would been out of breath for this one.  Wonderful orchestra, of course, and really great those time the conductor was not slowing the tempi.

Great opera but Jose Cura was not at the stage door, he had just slipped away... But I still got; Luciana, Olga, Simon and Matti.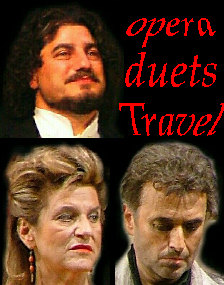 Rollendebüts

Marco Armiliato (Dirigent),

José Cura (Don Carlo),

Simon Keenlyside (Marquis von Posa),

Olga Guryakova (Elisabeth),

Luciana D´Intino (Eboli)

in Don Carlo

am 8. Dezember 2006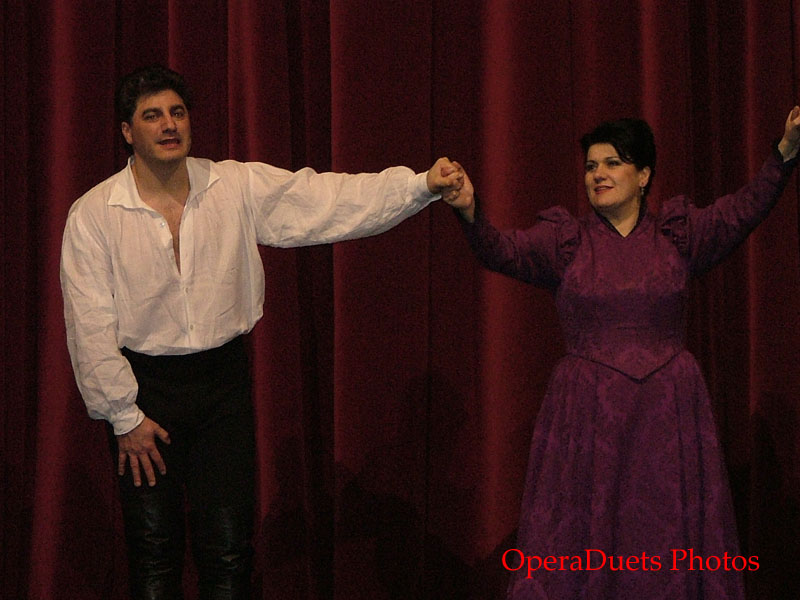 This page was last updated: January 10, 2017