Minnie = Eva-Maria Westbroek

Jack Rance = Silvano Carroli

Nick = Bonaventura Bottone

Ashby = Erik Halfvarson

Jake Wallace = Vuyani Mlinde

Sonora = Daniel Sutin

Bello = Kostas Smorginas

Happy = Quentin Hayes

Joe = Harry Nicoll

Larkens = Andrew Foster-Williams

Trin = Hubert Francis
Harry = Robert Murray
Sid = Adrian Clarke
José Castro = Jeremy White
Wowkle = Clare Shearer
Billy Jackrabbit = Graeme Danby

Antonio Pappano, conductor

Director -  Piero Faggioni

Set Designs - Kenneth Adam

Costume Designs - Piero Faggioni

Lighting - Piero Faggioni

Another Fanciulla on Monday 2008-09-29. This performance also started at 19. And as ususal I started with a Pizza (Funghi) at Piazza Cafe, but this time I was inside the cafe and not sitting outside. Another great Pizza Funghi. Lovely.

And then it was opera time. This time I was careful to arrive in good time before the opera starts. Fewer JCx members this time. I got to see the whole opera in my wonderful seat in the orchestra stalls. The only time we get to applaud the conductor Antonio Pappano before the opera starts is before act 3. SO both act 1 and act 2 starts suddenly from blackness to lights and music.

The only difference from Friday 26 to Monday 29 is the singer that is Sheriff Jack Rance, Silvano Carroli, the original Rance from 1977. So 31 years after this production was first played he is back, he also sang in the same production in 1978, so this was also 30 years celebration. And in 1982 it was taped on video with Placido Domingo as Dick Johnson, Carol Neblett as Minnie and Silvano Carroli as Rance, conducted by Nello Santi.

So how was he compared with himself almost 3o years ago or compared to our other Rance, Claudio Sgura. He was much older and somewhat lacking in force especially in act 1, in act 2+3 he was better. Anyway the opera changes a bit when Jack Rance is young and dashing (Claudio Sgura) or if he is more of an old rogue (Silvano Carroli 2008). Comparing 1982 performance with 2008 is almost impossible, it is to compare younger, domineering to older, domineering.

Many said this was the best performance of Silvano Carroli and the cast. It was certainly musically good. After a long wait at the stage door we finally met Jose Cura and his family and Eva-Maria Westbroek. I did not see Silvano Carroli. José Cura was still there talking when I left for my hotel. After all I was going home the next day.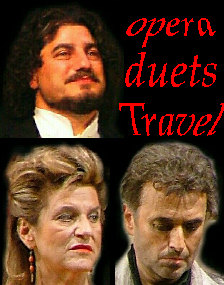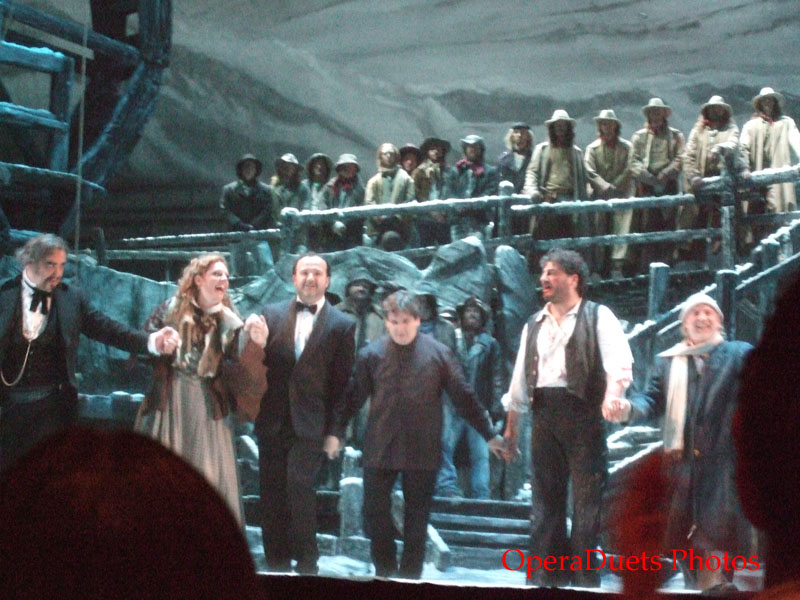 This page was last updated: January 10, 2017