Lina = Hui He

Stankar = Anthony Michaels-Moore (a)

Stankar = Mark Rucker (s)

Raffaele = Gergely Németi*

Jorg = Alexandru Moisiuc*

Federico = Benedikt Kobel*

Dorotea = Elisabeta Marin*

Michael Halász, conductor

Inszenierung - Elijah Moshinsky

Bühnenbild - Michael Yeargan

Kostüme - Peter J. Hall

Lichtregie - Paul Pyant

Choreinstudierung -Thomas Lang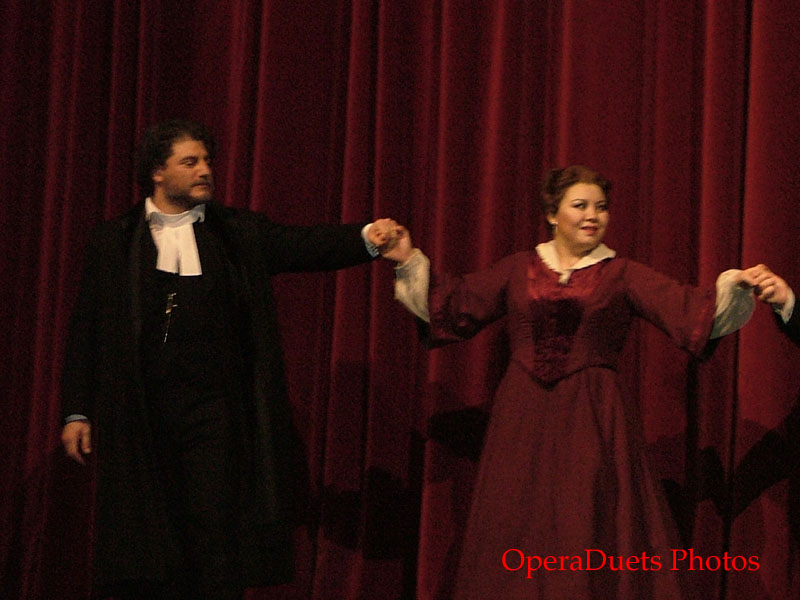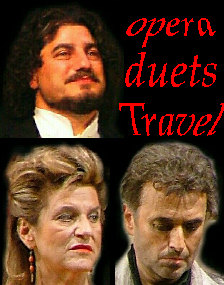 7. Februar 2009
Stiffelio

(34. Aufführung in dieser Inszenierung)

Dirigent: Michael Halász

Stiffelio: José Cura

Lina: Hui He

Stankar: Anthony Michaels-Moore (acts)

Stankar: Marck Rucker (sings)

Raffaele: Gergely Németi*

Jorg: Alexandru Moisiuc*

Federico: Benedikt Kobel*

Dorotea: Elisabeta Marin*

(* Rollendebüt an der Wiener Staatsoper)

Beginn: 19.30

Cough, cough, Stiffelio in Vienna:

one sings, the other acts

I didn't. Cough, I mean, But two people did. Maybe more. Annoying.

But the real news, Anthony Michaels-Moore is sick, he cannot sing. The American Mark Rucker steps in on very short notice. So there he stood beside the stage with his partiture singing Stankar while onstage Anthony Michaels-Moore acted Stankar (only mouthing his part). Strange to see and think about but this was like advanced synchron  swimming. They did it very well. The actor Michaels-Moore was great as actor, the singer Rucker was great as Stankar. Maybe MM was not great, but opera is not straight theatre, so when we think it as opera acting, not being able to sing probably meant the actor too was a bit unabled by that.

Did Stiffelio, the opera, suffer from this? No, not at all. Was the other singers affected by this? No, they were all great. Did the conductor suffer? No idea at all.

It was a great success for Mark Rucker. People were wild. I was near 3 of them who seem to come only for him. (If there is 3 it must really be plenty.)

HUI HE was wonderful as Lina. And all the audience understood they, one could hear that in the applause. She was warm and acted her role wonderfully. Wonderful voice. JOSE CURA did one of his very best Stiffelio's, if not the best. I wish I could describe how I have seen how Jose has changed with this role.  One the negative side: Federico di Frengel was rather thin and old, Raffaele was tall and somewhat big and young, but in the opera it should be possible to think Federico was Raffaele. Oh, that was maybe while it was so dark lit the stage. I thought that was to make it possible to Mark Rucker to read the notes.

Anyway, Mark Rucker was the super nice and happy man with a big laugh when he came out of the opera house. Hui He was also very nice and humble. Jose Cura sat down to as many signing and photos, even until the warming all to get out of the building, the lights are soon put out. It was a relief to Jose Cura, And really the fans was not slighted a bit.

A wonderful opera night!!!!!!!!!!!!!!!!

This page was last updated: June 20, 2022