Carmen = Julia Gertseva

Escamillo = Teddy Tahu Rhodes

Micaëla = Maija Kovalevska

Zuniga = Christian Van Horn

Moralès = Nikolay Borchev

Dancairo = Christian Rieger

Remendado = Kevin Conners

Frasquita = Lana Kos

Mercédès = Heike Grötzinger

Lillas Pastia = Manfred Ultsch

Karel Mark Chichon, conductor

Nach einer Produktion von Lina Wertmüller

Chöre - Andrés Máspero

Bühne und Kostüme - Enrico Job

Licht - Franco Marri

Nationaltheater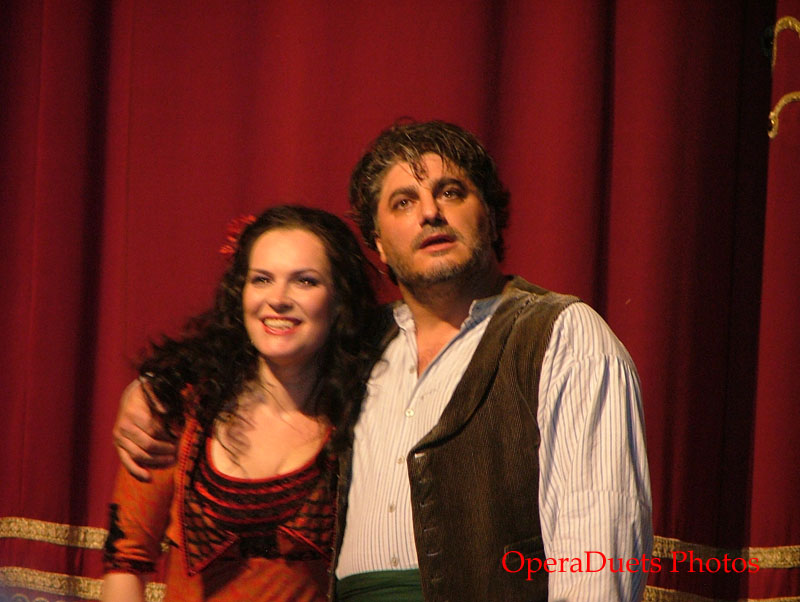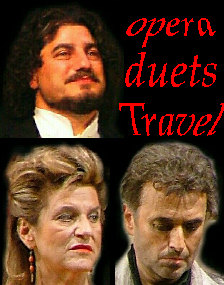 This page was last updated: June 20, 2022
CARMEN: This time, like all other times with Carmen, the conductor is too fast in the Prelude. I think the rest of the world disagree with me, but that is my opinion. What can I say about the production? Well, it was YELLOW. Is that a code for Seville... It was in my opinion a fairly traditional Carmen. There was some really good ideas there and sometimes the execution of ideas was wonderful. Julia Gertseva was a wonderful Carmen. I had not expected to love her as Carmen, but Carmen is really her role. Brilliant. José Cura was an excellent Don José. Vocally and acting brilliantly. The only thing is that here is French dialogue. And that is hard stuff. I really think Julia Gertseva was the best in dialogue, very clear, easy to hear, unfortunately I doubt it was the best French diction. Micaela was sung and acted superbly by Maija Kovalevska. It must have been the best Micaela I have seen. Zuniga and Morales seemed to young. Nikolay Borchev (Morales) seem to be the old type opera singer who sings to the audience. Christian Van Horn (Zuniga) right voice but too young for Zuniga. The smugglers Dancairo (Christian Rieger), Remendado (Kevin Conners) was alright, but Frasquita and Mercedes was another species of singers. Lana Kos was nothing short of wonderful as Frasquita. She makes you want more. Beautiful woman, voice and a sure actress. Heike Grötzinger as Mercedes was also a luxury Besetzung. This time one felt that Frasquita could easily become Micaela, and Mercedes could be Carmen.

Act 2 a gipsy camp with tents. I don't like it. And then the Fat Lady as Fat Gipsy Lady. OK, no not OK. A little too much of EXOTISM made of Gipsies, especially Gipsy Women, Zigeunerinnen. Problematic, the ROM people has been marginalized a long time when not looked as Exotic. OK, so it is CARMEN. But a little more respect. A big program but nothing about how the Rom people was treated in Spain in the time of Carmen or about how it is now or why not in the European History. But essays, essays about other things. Our chance of insight wasted. Insight of women's situation in Spain would be appreciated instead of just Carmen and who was she, what kind of love... boring stuff.

I almost forgot Teddy Tahu Rhodes as Escamillo. Doesn't that say it all. Almost forgot. Yes, young and beautiful (handsome, I mean), but it the end easy to forget. The last duet with Carmen (Julia Gertseva) and Don José (José Cura) was absolutely the best. Ever...