Santuzza = Dolora Zajick

Alfio = Alberto Mastromarino

Mamma Lucia = Auro Twarowska

Lola = Roxana Constanisnescu

Asher Fisch, conductor

Inszenierung / Bühnenbild / Kostüme - Jean-Pierre Ponnelle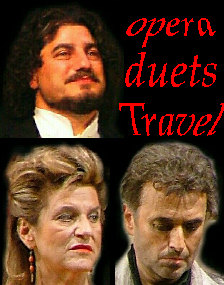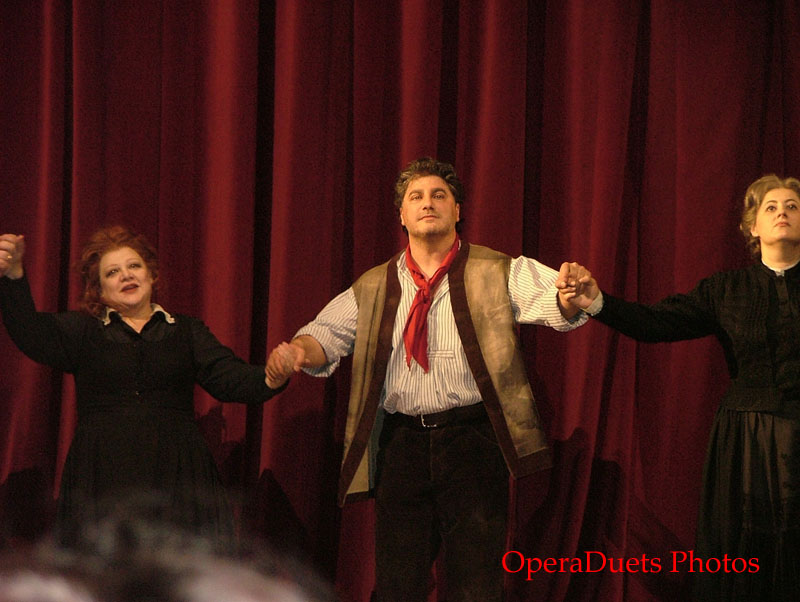 This page was last updated: June 20, 2022
2010, February 20

José Cura first performance in Vienna State Opera as Turriddu in Cavalleria Ructicana was a gigantic success. From the first moment I heard a tenor in great vocal shape. The Siciliniana was beautifully sung. His acting abilities makes him a superb Turriddu. Dolora Zajick was a good Santuzza, vocally and acting.

Aura Twarowska also sang for the first the role of Mamma Lucia in Vienna State Opera on February 20, 2010. She was great. Alberto Mastromarino was his usual Alfio, vocally not quite as great as I have heard him on earlier CavRust performances. Lola, Roxana Constantinescu, was also solidly sung.

As it was not the first time I saw this Jean-Pierre Ponelle production I noticed some small changes that made it even more clear what cruel situation Santuzza is in here. Even more pointing fingers than before. More hypocrisy. This time I think Alfio and all the village knows about Lola and Turriddu. They know about Turriddu and Santuzza too, why else would they be so cruel to Santuzza. Because Lola is married to a rich and powerful man, Alfio, in this village they pretend she is good. Because Santuzza had the mark of evil, read hear, and comes from the poor part of the village she is easy target. Turriddu is accepted although they don't really see much in him, he is a drunkard, because he is after all a man. And a man can do no evil, unless outed by another man.

The death of Turriddu with Cura playing him makes it clear that it is because he has been drinking heavily from the old wine. He also acts violently towards Lola when all the village is out from the church. The drinking song is just to make Lola drink and he forces her to kiss him. Alfio does not need Santuzza's word to understand the situation.

Wonderful duet Turriddu/Santuzza was alongside the Siciliana highlights of the evening. The Brindisi and Mamma, quel vino e generoso was also great.