Arvino = Massimiliano Pisapia

Papano = John Relyea

Viclinda = Cristina Damian

Giselda = Elza van den Heever

Pirro = Szymon Kobylinski

Un Priore = Dovlet Nurgeldiyev

Acciano = Wilhelm Schwinghammer

Oronte = Dimitri Pittas

Sofia = Solen Mainguené

Simone Young, conductor

Philharmoniker Hamburg

Chor der Hamburgischen Staatsoper

Inszenierung - David Alden

Bühnenbild - Charles Edwards

Kostüme - Brigitte Reiffenstuel

Licht - Adam Silverman

Chor - Eberhard Friedrich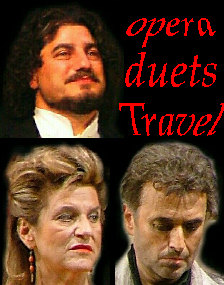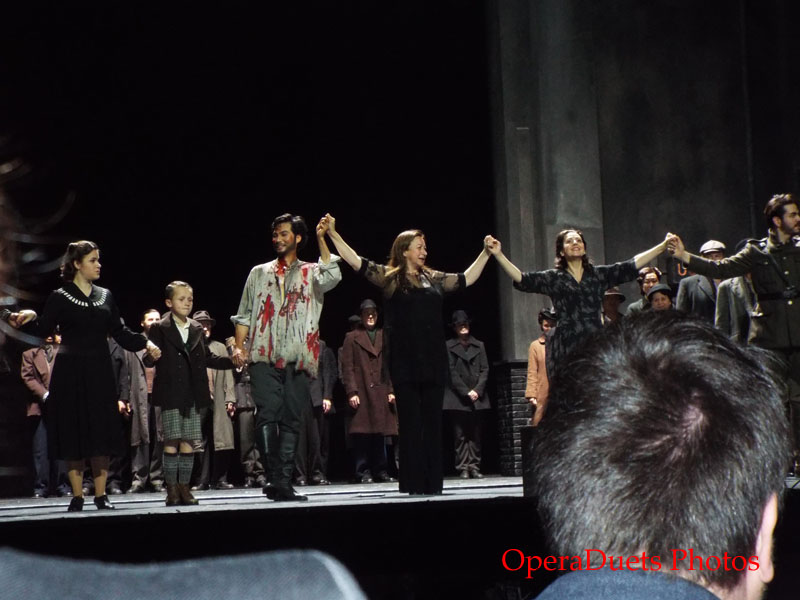 This page was last updated: June 20, 2022
Third time did not have the charm. First I saw La Battaglia in Legnano (see photo) that was a good enough production. Then I Due Foscari also OK, but. And now I LOMBARDI ALLA PRIMA CROCIATA. Where to begin?

I can start with the positive. Two great tenors, Massiliano Pisipia and Dimitri Pittas, as Arvino and Oronte. Loved also Vicinda, Gisenda and Sofia: Cristina Damian, Elza van den Heever and Sofia Mainguené. I was sorry not to see Viclinda and Sofia take their place at the end of the opera to get their very much deserved applause. John Relya was Papano and as the opera progressed he became more imposing by the minute.

The problem with I LOMBARDI lies with the words ALLA PRIMA CROCIATA. Was it any reason to update it in this way. It did not give anything to the story if it did anything it would be taking away. Then there is the opera itself, the text. It is no way to avoid the racist way Muslems are portrayed. I felt this production made it worse which is totally avoidable. To be a Christian and white means it is too easy just two say it was only 2 scenes so who cares. People who want to malign Muslims will find justifiing causes here. A Muslem wanting to be radicalezed will also find just cause here. Then there is the portraits of Christians, whether one choose to play them as nicer than the reality of the crusades, that would be wrong and as this production as a rather murderous horde, sadly more historically true, still not a good idea.

I LOMBARDI is a musical gem from Giuseppe Verdi, but it is not something that one should put onstage without any cultural awareness. Can we afford to create a wider gap between Christians and Muslems? NO. Should I LOMBARDI ALLA PRIMA CROCIATA be staged, at all?