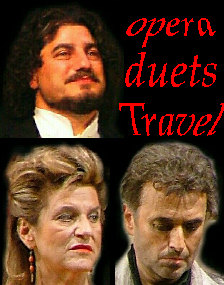 2015
-07-11 Verdi Puccini Opera Gala, Siracusa Teatro Greco
Maria Grazia Tringale, soprano

Gonca Dogan, soprano

Antonella Arena, mezzo

Dave Monaco, tenor

Filippi Micale, tenor

Salve di Salvo, baritone

(The soloists are from Coro Lirio Siciliano

directed by Francesco Costa)

Francesco Drago, piano

This was opera concert with piano. 3 sopranos, 2 tenors and 1 baritone. Or rather 2 sopranos and 1 mezzo (Antonella Arena!!!) with 2 tenors and 1 baritone (Salve Di Salvo).

I love the voice of mezzo soprano and I loved ANTONELLA ARENA. The singing was superb and the acting, too. Of the 6 singers she seemed the one most ready for an opera carreer. I would like to see and hear her as Azucena in Il Trovatore, it was so wonderful her Stride la vampa. Then she also sang Amneris from Aida, would love to see her onstage as Amneris. The duet with Aida with Gonca Dogan as Aida, I think. She sang the veil song from Don Carlo. Excellentissima!

The sopranos was also wonderful. Maria Grazia Tringale and Gonca Dogan. Sognando La Scala!

The baritone Salve di Salvo was also very good. The 2 tenors, Dave Monaco and Filippi Micale was good, too. But who is who?

This page was last updated: June 20, 2022