Carmen = Marta Valero

Don Jose = Sergi Giménez

Micaela = Elvira Galo

Escamillo = Alberto Cazes Spinoglio

Frasquita = Sara Banares or Itziar Espinar

Mercedes = Carla Mattioli

Dancaire = Xavier Aquilar

Rememdado = Jorge Jasso

Zuniga = Nestor Pintado

Orquestra Terrassa 48

Xavier Puig, conductor

Jesús Fernández, stage direction

Yasmina Pulido, choreography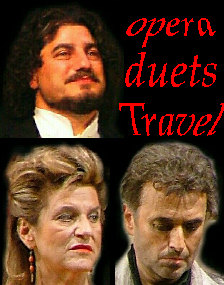 This page was last updated: June 20, 2022
It was not the very different version of Carmen, it just had more cuts in the score. It was Carmen with orchestra on the stage with the stage area used to showcase Carmen as opera as opposed to just a concert. It had seemed to me that this was to be Carmen as 2 hrs continuous play. In that case the opera would have had serious cuts. In stead it was act 1+2 in 2 hrs and the rest as 30 minutes. We had real Flamenco dancers that danced to Bizets music. Carmen, Don Jose, Micaela, Escamillo, Mercedes, Franquita, Dancaire and Remendado was all there and Zuniga was there, too.

It was beautiful and realistic staged.

It started 2030 and ended 2310. It was as lovely as it could be, but no revolutionary vision.

Back to the hotel to sleep. I slept well and this time I took the train to Madrid. I took the AVE train with Preferente and it was just relaxing and the food was amazing. Best chicken I have ever had. The train left 12 in Barcelona and was in Madrid Atocha at 1510. So incredible hot in Madrid. A long walk from Train to Metro and then finally at my hotel and I just went straight to bed to sleep. The hotel room was so chilly but better when I took off the air-conditioning.