Elisabetta = Mariella Devia

Sara = Sonia Ganassi

Roberto Devereux = Stefan Pop

Il Duca Di Nottingham = Sergio Vitale

Lord Cecil = Matteo Mezzaro

Sir Gualtiero Raleigh = Ugo Guagliardo



Sebastiano Rolli, conductor

ORCHESTRA DELL'OPERA ITALIANA

CORO DEL TEATRO REGIO DI PARMA

Director - Alfonso Antoniozzi

Sets - Monica Manganelli

Costumes - Gianluca Falaschi

Lighting - Luciano Novelli

Chorus master - Martino Faggiani




Production from Teatro Carlo Felice,Genova; Teatro La Fenice di Venezia

On Sunday  25. March 2018 the Summer Time starts. 0200 becomes 0300. And that changed everything for me. Suddenly on Friday I saw in my Google Calendar that Summer Time happens and I can no longer take the Night Bus to Gardermoen because my flight leaves at 6 but now my bus on this day my bus arrives at 6 and not 5 as usual. So Saturday becomes a day interrupted. Too little to eat and drink, and I am unaware that I am not truly well. Already in 2018 I have had 3 short and shortish hospital stays. On Sunday I eat even less: only 1 foccacia all day.

Sunday 25th: Arrival in Milan Malpensa. I know how to get to Parma. I take Malpensa Express and then I hasten to the earliest train to Parma. In Parma I go to Ibis Styles Parma. It is further from the train station than I like so I take the sensible step to cancel and books NH Parma instead. I love NH Parma, it is friendly and close to the train station. I relax. Then I try to find a place to have some good dinner, hopefully the best pizza in town, Instead I roam about and I only gets to buy a big bottle of diet Coke. 2 hours walking just because I trust Google maps and my googling skills too much. If only I have just stayed near the hotel then I would have found a restaurant and something better to drink.

It is opera time and I am weakened by my follies. Roberto Devereux with Mariella Devia, Stefan Pop and Sonia Ganassi. Luckily I am not in parkette but have a balcony seat with 2 gentlemen in the front. I have pains in my belly and it is causing much noise. The 2 gentlemen does not notice it or mention it to me, they are friendly and makes sure I have a great view of the stage. The stomach noices and pains makes it hard to enjoy the opera and I realize that Roberto Devereux is very boring and not like Anna Bolena at all. The gentlemen are both diehard fans of Mariella Devia. They think she was just the most amazing Elizabeth 1 of England. For me she was not exciting as she was when she sang Lucrezia Borgia, another Donizetti opera that is better than Roberto Devereux. Sonia Ganassi seem to have put on weight and Stefan Pop was not slender. The production was beautiful but I have seen Roberto Devereux on Met Opera on Demand and there suddenly I found Roberto Devereux to be rather exciting.

On Monday 26th, 2018, I was travelling home after a terrible night of vomiting. On the morning side I felt a bit better trusting that I will not need a doctor in Parma and so will not have to stay in an Italian hospital which was my fear that night. No food all Monday, I could not even eat a piece of melon. I pulled my self up and managed to travel to Milan Malpensa Airport. It was hard. All day only Water and regular Coke. After security it was to buy Water and Coca Cola as  my survival kit. Waiting to board. Boarding luckily the flight back was a direct flight to Oslo Gardermoen. It was half full. For me that was good because I was sick again and vomiting and needed the support of the flight attendants. They were great and they gave me oxygen the whole flight home and arranged from an ambulance to take me from the airport. I was the sick patient on a plane but no doctor or nurse was there.

4 weeks at hospital followed. Was it worth it?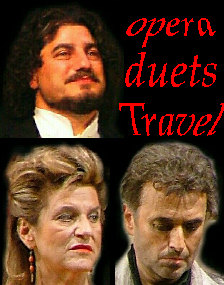 This page was last updated: June 20, 2022