Elvira = Hui HE

Giovanna = Anne-Marguerite WERSTER

Ernani  = Francesco MELI

Don Carlo = Ludovic TÉZIER

Don Ruy Gomez de Silva  = Alexander VINOGRADOV

Don Riccardo = Christophe BERRY

Jago = Antoine GARCIN

Lawrence Foster, conductor

Orchestre et Chœur de l'Opéra de Marseille

Mise en scène - Jean-Louis GRINDA

Décors - Isabelle PARTIOT

Costumes - Teresa ACONE

Lumières - Laurent CASTAINGT

PRODUCTION Opéra de Monte-Carlo / Opéra Royal de Wallonie

I loved Marseille. It was hot, 27 - 30 degrees Celsius. I also loved Ernani in this production. Hui He was wonderful as Elvira. It is a demanding role and despite Marseille being her first time as Elvira she was really good and will be absolutely amazing with time.

Francisco Meli was amazing as Ernani. Ludovic Tezier was also great as Don Carlo, King of Spain.

Alexander Vingradov was also great as Don Ruy Gomez de Silva.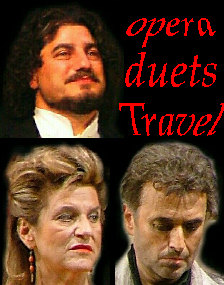 This page was last updated: June 20, 2022