1999
-05-12 Die Fledernaus (J. Strauss), Theater an der Wien
Gabriel von Eisenstein =  Wolfgang Brendel

Rosalinde, his wife =  Silvana Dussmann

Alfred, voice coach =  Herbert Lippert

Dr. Falke, notary =  Olaf Bär

Dr. Blind, barrister =  Ernst-Dieter Suttheimer

Frank, prison director =  Anton Scharinger

Adele, Rosalinde's maid =  Isabel Rey

Ida, her sister =  Mercedes Echerer

Frosch, court usher =  Erwin Steinhauer

Nikolaus Harnoncourt, conductor

Director - Jürgen Flimm

Stage design - Dieter Flimm

Costumes - Birgit Hutter

Choreography - Catharina Lühr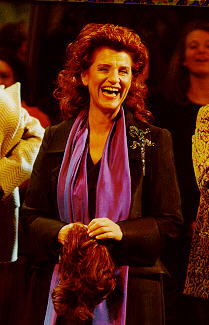 Theater an der Wien

DIE FLEDERMAUS

Prinz Orlofsky = Agnes Baltsa

Adele = Isabel Rey

The Spanish Soprano Isabel Rey (she lives in Zurich) is Adele, a Wienerin. The Greek Mezzo Agnes Baltsa (who also live in Switzerland) is Orlovsky from Russia. Isabel Rey is everything one wants Adele to be, she knows comedy and have a strong sense of language (German, naturally). Act 1 belongs to Isabel Rey. Then in act 2 comes Orlofsky Ball, and when Orlovsky and Adele, who is presented as Fräulein Olga (from Russia), wants to be a singer and sings a line from "Pres de remparts de Seville" and then Prinz Baltsa repeats it, to the great enjoyment of the house.

Act 3 starts with a boring Frosch, interesting for the Viennese, but not for me. Only Isabel Rey is good in this act, when Baltsa comes, then it is a good end of this operetta.

Wiener Festwochen1999 

Die Fledermaus (The Bat)

by Johann Strauss

Libretto and lyrics by C. Haffner and R.

Genée based on the vaudeville "Réveillon"

by Meilhac and Halévy 

  New production

Joint production of Vienna  Festival and Zurich Opera

Musical director:  Nikolaus Harnoncourt

Vienna Symphonic Orchestra

Arnold Schoenberg Choir 

Venue: Theater an der Wien

Premiere: 8 May (Televised ORF)

Additional performances: 10, 12, 14, 16 May

19.00 - 22.30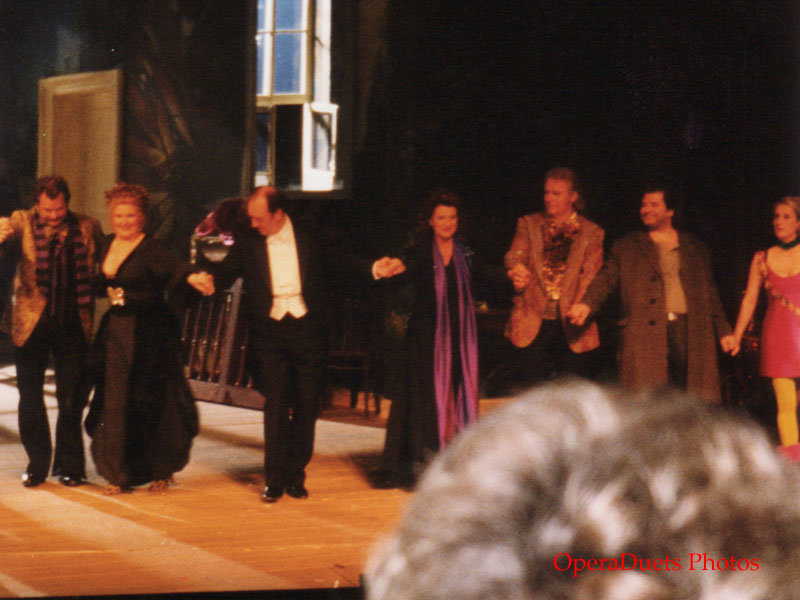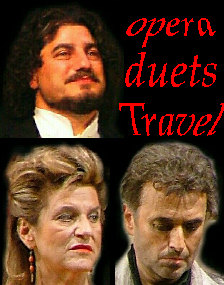 This page was last updated: June 20, 2022