Montserrat Caballé, soprano

Anhaltische Philharmonie Dessau

Golo Berg, conductor

2004-07-06 Tuesday

Going to Berlin, not with SAS this time but with Norwegian (www.Norwegian.no). Everything went well, I found my hotel easy enough. I remembered from last time I stayed at Hotel an der Oper (that was in 2000, when I saw Agnes Baltsa as Carmen in Deutsche Oper Berlin).

More difficult, however, was it for me to find Gendarmenmarkt. The map given to me by the hotel concierge did not show Gedarmenmarkt, and then my concierge told me the faster way to get to  this place, either I misunderstood her or not, I was walking quite a bit and got real tired in my legs, finally I realized that I was probably walking in the wrong direction (which usually when walking and looking at a map). When I in the end bought a map in which luckily Gedarmenmarkt was marked could I finally get a hold on where I was and "soon" I was at Gedarmenmarkt. It was almost totally veiled in a white cloth but at the ending notes of "Nessun dorma" in the veiled voice of Jose Cura, I was at the right point. After one round of walking around the Markt and standing there, I was now hungry and found that I must eat before the concert. Underground here and there. I ate Chinese food, and went back again.

First I saw one JCx members, then 2 at once. Then when I was at my seat there a whole road of members of the Cura Connexion. Splendid! I saw Montserrat Caballe with a white hospital stick, problem with her hip, I gather. In the concert she did not use it. I wonder if it had been easier to her to sing, if she could have leant to that stick. Anyway it was a wonderful concert. She of course was no longer the Queen of the velvety pianissimo anymore. Which was clear to anyone on some of the arias and duets but there was truly moments of exquisite beauty. Jose Cura was on the other hand perfect, only moment of inspection was in the beginning of the concert and it was simply because of the microphone, when that was sorted out it was honey all the way.

The orchestra and the conductor was wonderful in the Forza Ouverture the Barbiere Ouverture and the Manon Lescaut intermezzo. A true joy to listen too. After a momentous Forza del Destino ouverture, the duet from act 1, Alvaro and Leonora. Caballe's voice decline was obvious, jumping from notes, words that eloped, but together they were acting the moment of this difficult duet.  Then the orchestra was playing the intermezzo from Manon Lescaut, it was soothing the soul. Then Jose Cura sang E lucevan le stelle, it was really amazing and emotional. Then Barbiere Ouverture, and Cura sang "Come un bel di di maggio", from Andrea Chenier. And another Verismo aria Montserrat Caballe sang "Io son l'umile ancella" (started with the rezitative? "Dal Sultano Amurato") not like Mirella Freni sang it but another kind of perfection. BRAVA!!!. Then a "mosquito" stopped Cura in the beginning of the aria "L'anima ho stanca", luckily with a bit of Coca Cola he could sing again, and it was another splendid Adriana Lecouvreur aria. And then the two stars sang Fedora duets that ends act 2. And then the first part ended in the right sentiment.

Part 2 Cura conducted Caballe in Ave Maria from Verdi's Otello. She did not sing the Salce-aria (Mia madre avea una povera ancella) that the program stated, it was wise. She sang the Ave Maria as a devout Catholic, it was heart-warming to listen to. Then They sang the love duet of Otello together. Then the orchestra started with the

intermezzo from Pagliacci and Cura came in and sang Vesti la giubba. Montserrat sang an aria from la Vierge by Massenet. Wonderful!! And continued in the French vein, Cura sang the Flower aria from Carmen.  And the official program ended with the Brindisi from La Traviata.

Extras Cura sang two songs from the Boleros CD (Como novios, Esta tarde vi llover), Montserrat Caballe sang one Zarzuela aria (a real quick one), and the Berliner Luft. And in the end Jose Cura sang Nessun dorma, with Caballe as the receiver of all his vocal passion.

In the end of this wonderful evening, the JCx members ended in a cafe. In the end it was really night 0130, I think and I took a taxi to my hotel.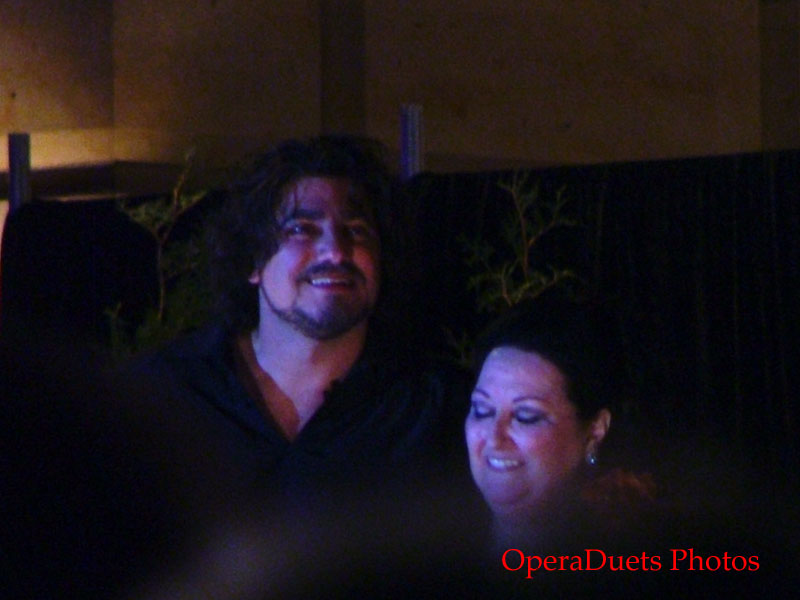 PROGRAMME

01. Verdi: La Forza del Destino- ouverture (Anhaltische Filharmonie Dessau, cond. Golo Berg)

02. Verdi: Forza - duetto "Ah, per sempre" (Caballé & Cura)

03. Puccini: Manon Lescaut - intermezzo

(orchestra)

04. Puccini: Gianni Schicchi - "O mio babbino caro" (Caballé)

05. Puccini: Tosca - "E lucevan le stelle" (Cura)

06. Rossini: Il Barbiere in Siviglia - ouverture (orchestra)

07. Giordano: Andrea Chénier - "Come un bel di di Maggio" (Cura)

08. Cilea: Adriana Lecouvreur - "Dal sultano amurato - Io son l'umile ancella" (Caballé)

09. Cilea: Adriana Lecouvreur - "L'anima ho stanca" (Cura)

10. Giordano: Fedora - duetto, "Ella fuggi" (Caballé & Cura)

PAUSE

11. Verdi: Otello - "Ave Maria" (Caballé, conductor: Cura)

12. Verdi: Otello - "Gia nella notte densa" (Caballé & Cura)

13. Leoncavallo: Pagliacci - intermezzo (orchestra)

14. Leoncavallo: Pagliacci - "Vesti la giubba"  (Cura)

15. Massenet: La Vierge - "L'extase de la Vierge" (Caballé)

16. Bizet: Carmen - "La fleur que tu m'avais jetée" (Cura)

17. Verdi: La Traviata - brindisi (Caballé & Cura)

Extras:

Cura sang 2 songs from the Boleros album

(Como novios & Esta tarde vi llover),

Caballé sang a quick zarzuela aria, and "Berliner Luft", and  in the end Cura sang "Nessun dorma" from Turandot by Giacomo Puccini with Caballé on stage directed to her.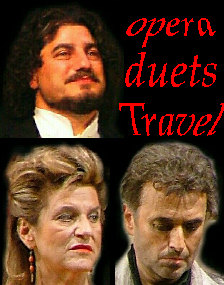 This page was last updated: June 20, 2022