The King = Marco Spotti

Amneris = Tichina Vaughn

Aida = Micaela Carosi

Ramfis = Carlo Colombara

Amonasro = Alberto Mastromarino

A messenger = Carlo Bosi

High Priestess = Antonella Trevisan

Daniel Oren, conductor

Director - Franco Zeffirelli 

Scenographer - Franco Zeffirelli 

Costume Designer - Anna Anni 

Choreographer - Vladimir Vassiliev 

Choir Master - Marco Faelli

Director of the Corps de Ballet -  Maria Grazia Garofoli

Lighting Designer - Paolo Mazzon

Director of stage design - Giuseppe De Filippi Venezia

Wonderful day in Verona

I arrived in Verona Porta Nuova at 1500. It was a hot day. After staying  in my hotel Tryp Verona for a few hours I took the Opera Bus to Verona (1830). I tried to find if I could see any JCx friends there, and then I sat at Cafe Opera and had some dinner before the opera. It seem to take forever until day at last opened door one, some trouble with the keys I think.

But at last at the Arena I met Yvonne and Kira and many more. This was a big Zeffirelli Aida production, beautiful and wonderfully operatic. I think I must have had some troubles with my ears because I didn't hear so well the first act. The conductor was a disappointment he was too fast in many of the delicate moments almost ruining the opera. Jose Cura looked wonderful and sing/acted Radames wonderfully. Tichina Vaughn did her best but lacked some of the charisma this role needs. Micaela Carosi had no such troubles, her voice was clear and she had a lot of charisma. No wonder the opera is called AIDA. Alberto Mastromarino was an efficient Amonasro, Carlo Colombara did well as Ramfis, Marco Spotti was OK as the King.

The Ballet was not to my liking, I found it almost offensive. The prima ballerina as a kind of high priestess was a good idea that worked very well.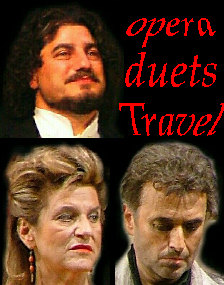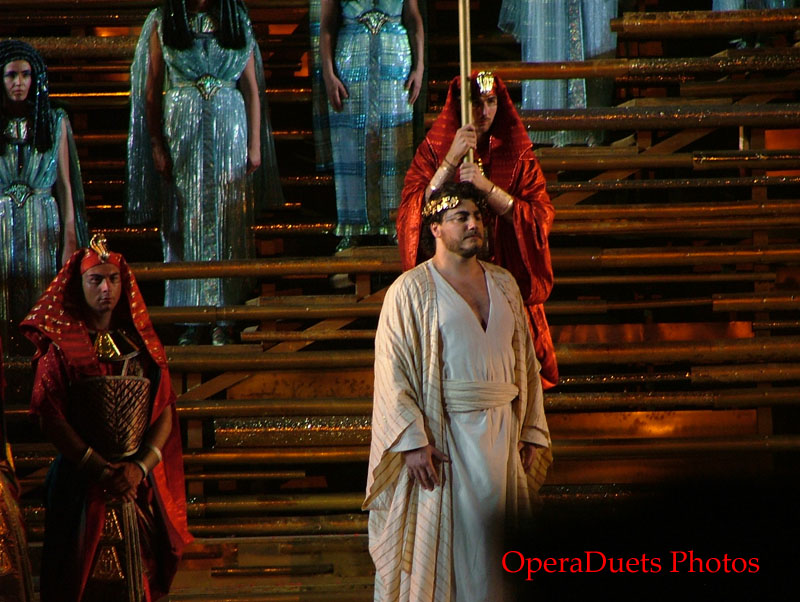 This page was last updated: January 10, 2017