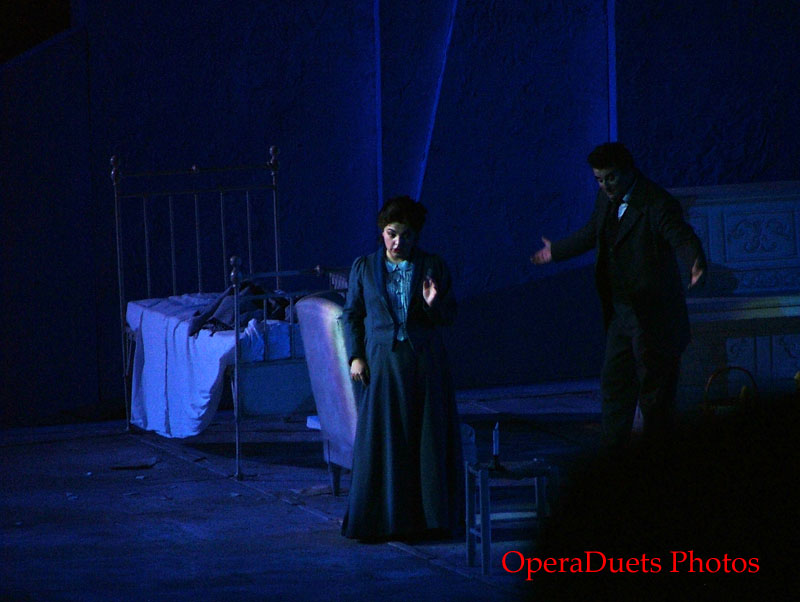 Rodolfo = Marcello Giordani

Mimì = Tamar Iveri

Marcello = Gabriele Viviani

Musetta = Donata D'Annunzio Lombardi

Colline = Marco Spotti

Alcindoro = Angelo Nardinocchi

Schaunard = Fabio Previati

Benoit = Graziano Polidori

Parpignol = Carlo Bosi

A customs official = Federico Longhi

Lü Jia, conductor

Director  - Arnaud Bernard

Scenographer . William Orlandi

Costume Designer - William Orlandi

Choir Master  - Marco Faelli

Lighting Designer - Paolo Mazzon

Director of stage design -  Giuseppe De Filippi Venezia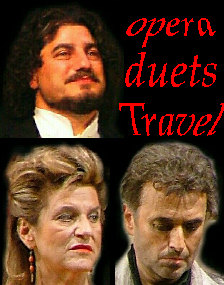 Another fine day in Verona, Italy. Problem with Arena di Verona and La Boheme, is that the stage is huge, and that this opera is more of a intimate romance. Of course act 2 is a great, big scene with lots of people. But this problem was a Zeffirelli-like production, huge and the little people got lost. Not being able to find out right a way Rodolfo and Mimi was a disappointment. Zeffirelli would not have made that fault, I believe. he would have a way to highlight the important people in the opera. Act 1 + 4, all action in a tiny bit of the stage, in the middle. But the Arena is so big why did the director not make the attic of the artists, Marcello and Rodolfo, huge using most of the arena stage area.

Other problems was for me all the circus of act2, people blowing fires from their mouth. Just a show that made it difficult to get the real operatic action... And act 3, very bad, hated the bicycles thing. Here we are supposed to see peasant woman at the customs controlling their bread, milk cans etc. The bicycling was just a circus thing... And act 4, when the guys are pretending to be at a ball. Here they were not dancing, they were drying up laundry and playing with that, Gavotta, Pavanella, Fandango... no dance.

The singers, orchestra was all great and the production was not all bad, just not quite right and Arena was not the right place.

This page was last updated: June 20, 2022